CHANGING HANDS BOOK CLUB
Found in Translation: Disoriental by Negar Djavadi, translated by Tina Kover
7PM WEDNESDAY, JANUARY 9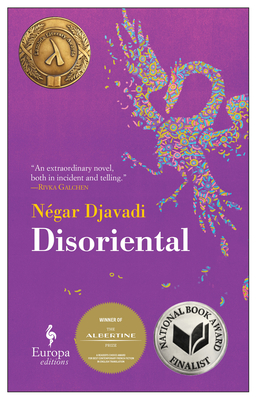 This month we'll discuss Disoriental by Negar Djavadi, translated by Tina Kover.
Whether you're a seasoned traveler, a voracious reader, or a dreamer who wants to see the world, all are invited to our newest book club focused on international literature. Sometimes visiting other countries doesn't always give travelers an insider's view into foreign cultures; sometimes we are still too outside, too different, to get at the heart of a place. Often the best way to understand distant lands and peoples is to read their literature, to get inside the head of a foreign author, to hear their myths and fairy tales molded around words they penned in their mother tongue.
In Found in Translation, we will delve into a work of international literature in a small group setting while enjoying coffee, beer, or wine drinks from First Draft Book Bar, located in Changing Hands Phoenix.
Stop by Changing Hands Phoenix or Tempe (or order online by clicking "add to cart" below) to get your copy of
Disoriental
for
20% OFF
.
Then meet us at First Draft Book Bar to discuss the pick and enjoy
HAPPY HOUR
prices all through the event.
FREE PARKING / LIGHT RAIL
Don't want to drive? Take the Light Rail! It lets off at the Central Avenue/Camelback Park-and-Ride, which has hundreds of free parking spaces across the street from Changing Hands.
ABOUT THE BOOK
Kimi Sadr fled Iran at the age of ten in the company of her mother and sisters to join her father in France. Now twenty-five and facing the future she has built for herself as well as the prospect of a new generation, Kimi is inundated by her own memories and the stories of her ancestors, which come to her in unstoppable, uncontainable waves. In the waiting room of a Parisian fertility clinic, generations of flamboyant Sadrs return to her, including her formidable great-grandfather Montazemolmolk, with his harem of fifty-two wives, and her parents, Darius and Sara, stalwart opponents of each regime that befalls them.
In this high-spirited, kaleidoscopic story, key moments of Iranian history, politics, and culture punctuate stories of family drama and triumph. Yet it is Kimi herself--punk-rock aficionado, storyteller extraordinaire, a Scheherazade of our time, and above all a modern woman divided between family traditions and her own "disorientalization"--who forms the heart of this bestselling and beloved novel.

$18.00
ISBN: 9781609454517
Availability: On Our Shelves Now
Published: Europa Editions - April 17th, 2018
---