Gary L. Stuart: Call Him Mac: Ernest W. McFarland, The Arizona Years
6PM WEDNESDAY, JANUARY 16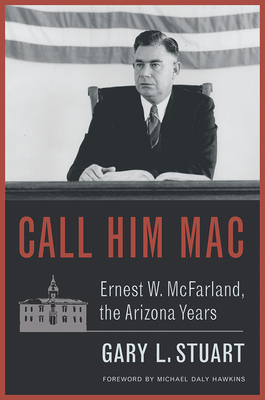 Author, lawyer, and law professor Gary L. Stuart shares his latest book, a biography of Ernest W. McFarland.
The political life of Ernest W. McFarland—lawyer, judge, senator, governor, Supreme Court justice, and businessman—is well documented. Less well known is his life as a family man, country lawyer, rural judge, and visionary. In
Call Him Mac
, Gary L. Stuart renders a nuanced portrait of a young, ambitious, restless, and smiling man on the verge of becoming a political force on his way to the highest levels of governance in Arizona and America. Stuart reveals how Mac became an expert on water law and a visionary in Arizona's agricultural future. Using interviews with friends and family and extensive primary source research, Stuart spotlights Mac's unerring focus as a loving husband, father, and grandfather, even in times of great personal tragedy. Mac's commitments to his family mirrored his sense of fiduciary duty in public life. His enormous political successes were answers to how he dealt with threats to his own life in 1919, the loss of his first wife and three children in the 1930s, and a political loss in 1952 that no one saw coming. Stuart writes the little-known story of how Arizona's culture and citizens shaped this energetic, determined, likable lawyer. The fame Mac created was not for himself but for those he served in Arizona and beyond. Mac's unparalleled political success was fermented during his early Arizona years, the bridge that brought him to his future as an approachable and likable elder statesman of Arizona politics.
PARKING / LIGHT RAIL
Don't want to drive? Take the Light Rail! It lets off at the Central Avenue/Camelback Park-and-Ride, which has hundreds of free parking spaces across the street from Changing Hands.
ABOUT THE AUTHOR
GARY L. STUART spent 32 years as a partner in Jennings, Strouss & Salmon, PLLC, in Phoenix, Arizona. He now practices part time as Gary L. Stuart, P.C. He earned degrees in Finance and Law at the University of Arizona. Martindale-Hubble lists him as an A-V lawyer and a Premier American Lawyer. He was profiled in
Who's Who in American Law
(First Edition). He is a sustaining member of Best Lawyers in America, Arizona's Finest Lawyers, and Southwest Superlawyers. The Maricopa County Bar Association inducted him into its Hall of Fame in October 2010. The National Institute of Trial Advocacy honored him with its Distinguished Faculty designation in 1994. He holds the juried rank of Advocate and served as President of the American Board of Trial Advocates (Arizona Chapter). Stuart completed an eight-year term on the Arizona Board of Regents, and served as its President in 2004-2005. He taught as Adjunct Faculty at the University of Arizona James E. Rogers College of Law (2000-2005). He has been on the Adjunct Faculty at the Sandra Day O'Connor College of Law since 1994, where he continues to teach Legal Ethics, Legal Writing, and Appellate Advocacy. He also serves as Senior Policy Advisor to the Dean at the ASU College of Law.

$19.95
ISBN: 9781941451052
Availability: On Our Shelves Now
Published: Sentinel Peak Books - October 16th, 2018
---