Ada Anbar: When Love Meets Dementia: Frontotemporal Degeneration (FTD) and the Family
3:30PM SUNDAY, JANUARY 12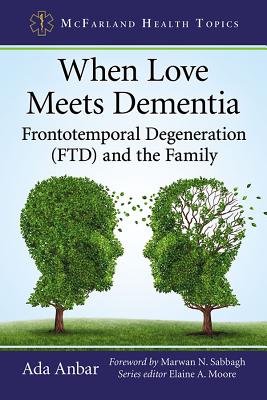 Author Ada Anbar discusses her late husband's struggle with FTD and how it affected their entire family.
Frontotemporal Degeneration (FTD) is now recognized as one of the most common forms of dementia in individuals under age 65, second only to Alzheimer's. Shedding light on a little known brain disease, this volume examines FTD from a few angles, beginning with the author's insightful memoir of her husband's struggle with FTD and its impact on their family. Detailed background information on the disease is provided along with discussion of related issues, and information on how to minimize the chances of becoming a victim.
ABOUT THE AUTHOR
Long time educator Ada Anbar is the author of several parenting books that discuss early childhood development issues and the difficulties that mothers encounter in balancing their needs with those of their young children. She lives in Phoenix, Arizona.

$39.95
ISBN: 9781476673400
Availability: On Our Shelves Now
Published: McFarland & Company - December 17th, 2018
---