Beverly Jane Phillips: Hattie's Book: A Woman's Life in a City's History
7PM THURSDAY, JANUARY 16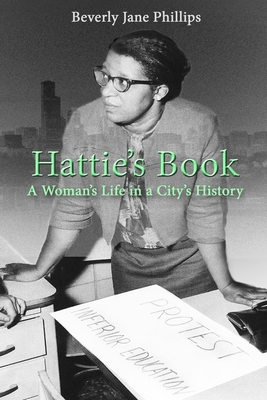 Beverly Jane Phillips, author of Hattie's Book, A Woman's Life in a City's History, discusses the life of Hattie Kay Williams and the history of racism in the United States.
Hattie Belle Kay Williams was born in December of 1922 on South Lake Park Avenue in Chicago, living on that street until her death in 1990. She was a poor but powerful, determined black woman who fought against the powers of public policy using both charity and social action undergirded by her deep and abiding faith in God. In her home, which contained a food pantry and clothes closet, she organized GED classes and classes on self-esteem, sewing, budgeting, cooking. Her outreach into the suburban white churches of Chicago brought greatly needed donations of money, food, clothing, and furniture. She was politically active in the school boycotts of the 1960s and ran for the office of alderman in 1973. Excerpts from several interviews of Hattie tell of her work in her own words. In this book the history of the public policies that built and enforced the segregation of black citizens of Chicago are interwoven with the story of Hattie's life.
ABOUT THE AUTHOR
Beverly Jane Phillips is a retired Minister of Word and Sacrament in the Presbyterian Church (USA). She graduated from Hastings College in Hastings, Nebraska in 1958 and from San Francisco Theological Seminary in 1961. She was ordained to the position of Hunger Action Enabler for Chicago Presbytery in 1988 and later served as an organizer for Illinois, Indiana, and Missouri for Bread for the World. She has written two other books:
Learning a New Language: Speech About Women and God,
a discussion based on the Bible, classical theology, and women's experience of the legitimacy and urgency of calling God by feminine names. The second one,
From Heaven to My Heart: God's Journey With Me,
tells of her spiritual journey which combined both personal spirituality and social activism.

$14.99
ISBN: 9780963665973
Availability: Not Available In-Store - Usually Ships from Warehouse in 1-5 Days
Published: Paul Bechtold Library Publications - September 4th, 2019
---