Dave Clark: Phoenix Beer: A History Rising to New Peaks
7PM THURSDAY, JANUARY 9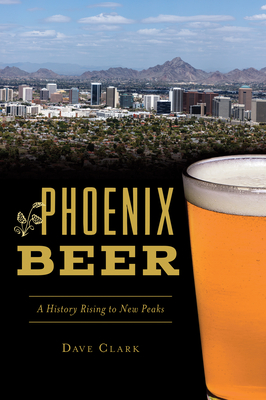 An interactive beer sampling and deep dive into the local brewing scene of Phoenix! Dave Clark, author of Phoenix Beer: A History Rising to New Peaks, will lead you on a beer-inspired journey to discuss many of your favorite local breweries, how they came to be and the story of the people behind those breweries
.
One special local brewery's beers will be featured and we'll sample and discuss this fine brewery's beers.
Phoenix's brewing history dates back to the mid-1800s, when small breweries had to contend with brackish water, searing desert heat and no refrigeration. By the time Prohibition arrived, the state's breweries were tapped out. It wasn't until the 1930s that Arizona Brewing Company left the first indelible mark on the Copper State's thirst. When its last call came, a new force called Four Peaks rose from the ashes as majestically as the mountains for which it is named. Author Dave Clark guides you from the area's beer icons of yesterday to the rapidly evolving brewing scene of today. Discover and appreciate Phoenix beer, from the classic, clean pilsner from Helton Brewing that rivals Germany's best to Fate's local taste of the Southwest, Hatch Chile Gatos.
PARKING / LIGHT RAIL
Don't want to drive? Take the Light Rail! It lets off at the Central Avenue/Camelback Park-and-Ride, which has hundreds of free parking spaces across the street from Changing Hands.
ABOUT THE AUTHOR
Former professional brewer, Certified Cicerone and past president of SNOB homebrew club, Dave Clark is one of two Master-level BJCP beer judges in Arizona. A Phoenix, AZ resident since 2014, Dave is an established beer and music journalist, contributing regularly to publications such as
Brew Your Own
,
Zymurgy
,
Beer Connoisseur
and
Beer Advocate
. The former beer scribe for
New Times
and
Entertainer Magazine
, Clark enjoys performing locally as a singer/guitarist, skiing, hiking and, of course, visiting local breweries and watering holes.

$23.99
ISBN: 9781467140980
Availability: On Our Shelves Now
Published: History Press - November 25th, 2019
---