FAMILY EVENT
Rodo Sofranac: Saved By the Burp
10AM SATURDAY, JANUARY 25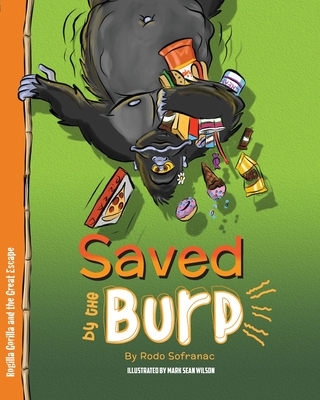 Join award winning local author, Rodo Sofranac, as he launches his eighth book for the young at heart—Saved by the Burp: Rogilla Gorilla and the Great Escape.
Book #1 – Saved by the Burp: Rogilla Gorilla and the Great Escape
Rogilla the gorilla is the zoo's most popular resident. At heart, she's like a human kid. She loves to play, eat, drink, and play some more. One night she gets out of her enclosure and decides to eat and drink like a human kid. Oh my! What happens when she does?
Book #2 - The Red Tail Tale on the Arizona Trail
In The Red Tail Tale on the Arizona Trail, Rowen, a young, red-headed explorer, and Rojo, a clever, red-tailed hawk meet, bond, and experience a wonderful adventure on the fascinating Arizona National Scenic Trail.
Besides reading enjoyment, the purpose of this book is to give exposure to and provide a funding source for the Arizona National Scenic Trail, particularly the programs of the Arizona Trail Association. Up to 50% of the profits generated by this book will be donated to the AZT.
Book #3 - Polly and the Peaputts Pull Together
Excitement from the Peaputts and their creative efforts to extract a strange "root" leads to lessons of acceptance and cooperation from the smallest member of the community. Will the Peaputts ever listed to Polly's plea, "Polly nicely told Major Goober, 'We can tug that peanut free, if we work on it together. Can I help you? How about me.'"
Rhythm, rhyme, and revelry bring all the Peaputt escapades to life.
PARKING / LIGHT RAIL
Don't want to drive? Take the Light Rail! It lets off at the Central Avenue/Camelback Park-and-Ride, which has hundreds of free parking spaces across the street from Changing Hands.
ABOUT THE AUTHOR:
Rodo spent the first few years of his life in a small village called Rijeka Crnojevica, in Montenegro (formerly a part of Yugoslavia). The next few years he lived in Salzburg, Austria. His family then immigrated to the United States. This diversity of cultures and languages has inspired Rodo to read, write, and have fun with words, especially telling stories. He has worked with young children for over 45 years, as a teacher, translator, and mentor. In addition, he has raised four of his own, and now grows with his grandkids. Currently, Rodo lives in the larger village of Phoenix, Arizona with his loving wife, Susan, and some of the kids—who all constantly help him with his English.

$9.99
ISBN: 9780997568578
Availability: On Our Shelves Now
Published: Grammy Knows Books - January 1st, 2020
---