CHANGING HANDS BOOK CLUB
Found in Translation: Drive Your Plow Over the Bones of the Dead by Olga Tokarczuk, translated by Antonia Lloyd-Jones
7PM WEDNESDAY, JANUARY 8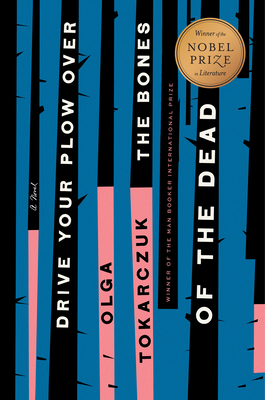 This month we'll discuss Drive Your Plow Over the Bones of the Dead by Olga Tokarczuk, translated by Antonia Lloyd-Jones, winner of the Nobel Prize in Literature.
Whether you're a seasoned traveler, a voracious reader, or a dreamer who wants to see the world, all are invited to our newest book club focused on international literature. Sometimes visiting other countries doesn't always give travelers an insider's view into foreign cultures; sometimes we are still too outside, too different, to get at the heart of a place. Often the best way to understand distant lands and peoples is to read their literature, to get inside the head of a foreign author, to hear their myths and fairy tales molded around words they penned in their mother tongue.
In Found in Translation, we will delve into a work of international literature in a small group setting while enjoying coffee, beer, or wine drinks from First Draft Book Bar, located in Changing Hands Phoenix.
Stop by Changing Hands Phoenix or Tempe (or order online by clicking "add to cart" below) to get your copy of
Drive Your Plow Over the Bones of the Dead
for
10% OFF
.
Then meet us at First Draft Book Bar to discuss the pick and enjoy
HAPPY HOUR
prices all through the event.
FREE PARKING / LIGHT RAIL
Don't want to drive? Take the Light Rail! It lets off at the Central Avenue/Camelback Park-and-Ride, which has hundreds of free parking spaces across the street from Changing Hands.
ABOUT THE BOOK
In a remote Polish village, Janina devotes the dark winter days to studying astrology, translating the poetry of William Blake, and taking care of the summer homes of wealthy Warsaw residents. Her reputation as a crank and a recluse is amplified by her not-so-secret preference for the company of animals over humans. Then a neighbor, Big Foot, turns up dead. Soon other bodies are discovered, in increasingly strange circumstances. As suspicions mount, Janina inserts herself into the investigation, certain that she knows whodunit. If only anyone would pay her mind . . .
A deeply satisfying thriller cum fairy tale,
Drive Your Plow over the Bones of the Dead
is a provocative exploration of the murky borderland between sanity and madness, justice and tradition, autonomy and fate. Whom do we deem sane? it asks. Who is worthy of a voice?

$27.00
ISBN: 9780525541332
Availability: Not Available In-Store - Usually Ships from Warehouse in 1-5 Days
Published: Riverhead Books - August 13th, 2019
---