George Lakey: How We Win: A Guide to Nonviolent Direct Action Campaigning
7PM TUESDAY, JANUARY 28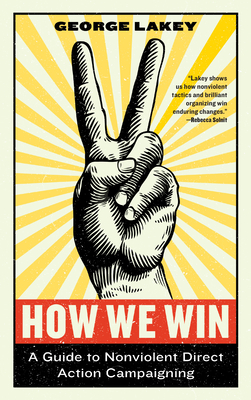 Author George Lakey shares his new guide.
A lifetime of activist experience informs this playbook for building and conducting nonviolent direct action campaigns.
Beginning as a trainer in the civil rights movement of the 1960s, George Lakey has been on the front lines of social change for decades.
Now, in this timely and down-to-earth guide, he passes the torch to a new generation of activists hitting the streets. He looks to successful campaigns across the world to help us see what has worked and what hasn't: from choosing the right target, to designing a creative campaign; from avoiding burnout within your group, to building a movement of movements to achieve real progressive victories.
Drawing on the experiences of a diverse set of ambitious change-makers,
How We Win
shows us the way to justice, peace, and a sustainable economy. This is what democracy looks like.
Local Sponsors: Local to Global Justice (ASU), Phoenix Religious Society of Friends (Quakers), and Arizona Interfaith Power and Light; along with a number of individuals.
ABOUT THE AUTHOR
George Lakey has been active indirect action campaigns for over six decades. Recently retired from Swarthmore College, where he was the Eugene M. Lang visiting Professor for Issues of Social Change. Lakey was first arrested at a civil rights demonstration in March 1963, and his most recent arrest was in March, 2018, as a participant in the Power Local Green Jobs Campaign. He lives in Philadelphia, PA.

$16.99
ISBN: 9781612197531
Availability: On Our Shelves Now
Published: Melville House - December 4th, 2018
---