TEEN EVENT
IN CONVERSATION WITH SUZANNE YOUNG
Abigail Johnson: Every Other Weekend
7PM THURSDAY, JANUARY 9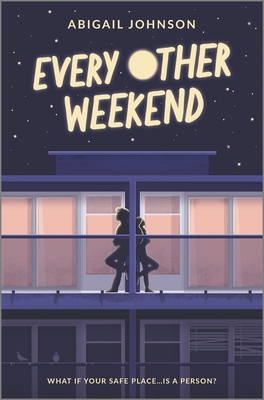 The local author discusses her latest novel with YA author Suzanne Young.
Can life begin again...every other weekend?
Adam Moynihan's life
used
to be awesome. Straight As, close friends and a home life so perfect that it could have been a TV show straight out of the 50s. Then his oldest brother died. Now his fun-loving mom cries constantly, he and his remaining brother can't talk without fighting, and the father he always admired proved himself a coward by moving out when they needed him most.
Jolene Timber's life is
nothing
like the movies she loves--not the happy ones anyway. As an aspiring director, she should know, because she's been reimagining her life as a film ever since she was a kid. With her divorced parents at each other's throats and using her as a pawn, no amount of mental reediting will give her the love she's starving for.
Forced to spend every other weekend in the same apartment building, the boy who thinks forgiveness makes him weak and the girl who thinks love is for fools begin an unlikely friendship. The weekends he dreaded and she endured soon become the best part of their lives. But when one's life begins to mend while the other's spirals out of control, they realize that falling in love while surrounded by its demise means nothing is ever guaranteed.
ABOUT THE AUTHOR
Abigail Johnson was born in Pennsylvania. When she was twelve, her family traded in snowstorms for year-round summers and moved to Arizona. Abigail chronicled the entire road trip and has been writing ever since. She became a tetraplegic when she was seventeen, but hasn't let that stop her from bodysurfing in Mexico, writing and directing a high-school production of Cinderella, and becoming a published author. Visit Abigail at abigailjohnsonbooks.com and on Twitter @AbigailsWriting.
ABOUT THE MODERATOR
Suzanne Young is the New York Times bestselling author of the Program series. Originally from Utica, New York, she moved to Arizona to pursue her dream of not freezing to death. Suzanne is a novelist and an English teacher, but not always in that order. She is the author of
Girls with Sharp Sticks
,
The Program
,
The Treatment
,
The Remedy
, and
A Need So Beautiful.

$18.99
ISBN: 9781335929099
Availability: On Our Shelves Now
Published: Inkyard Press - January 7th, 2020
---