YA AUTHOR EVENT
Nnedi Okorafor: Akata Woman
7PM TUESDAY, JANUARY 18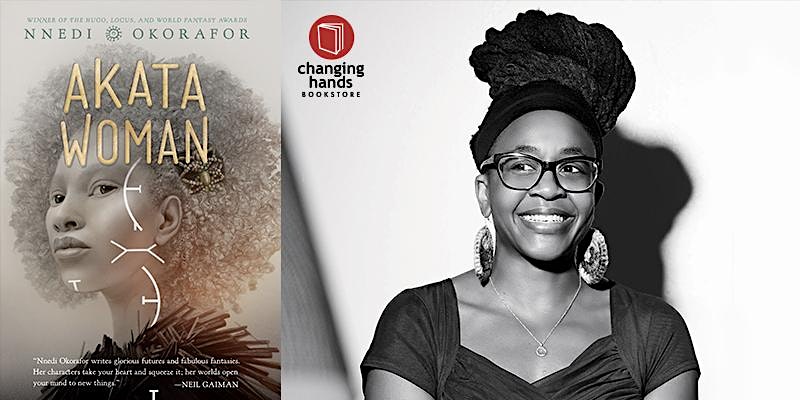 LOCATION | IN-PERSON: TEMPE
A limited number of free tickets are available. You can also support Changing Hands by purchasing the book via Eventbrite below, or by contributing what you can. A suggested contribution of $5, $10 or $20—whatever you can afford—will help keep our event series sustainable and accessible to all. Thank you!
International award-winning novelist Nnedi Okorafor joins us in person with Good Morning Arizona anchor Olivia Fierro at our Tempe location to present the highly anticipated third novel in her The Nsibidi Scripts series, Akata Woman. The Nsibidi Scripts series was named one of TIME magazine's "100 Best Fantasy Books of All Time" and "100 Best YA Books of All Time."
BONUS! When you purchase a copy of Akata Woman from Changing Hands, you'll receive your book signed by the author.

ABOUT THE LIVE EVENT
We're limiting attendance to allow for social distancing, so registration via Eventbrite is required for admission.

Masks are required.
ABOUT THE BOOK
From award-winning author Nnedi Okorafor, the electrifying third book in the series that started with Akata Witch, named one of Time magazine's 100 Best Fantasy Books of All Time and 100 Best YA Books of All Time!

In this series, Okorafor creates a stunningly original world of African magic that draws on Nigerian folk beliefs and rituals instead of relying on the predictable tropes of Western fantasy novels.
--Time magazine
From the moment Sunny Nwazue discovered she had mystical energy flowing in her blood, she sought to understand and control her powers. Throughout her adventures in
Akata Witch
and
Akata Warrior
, she had to navigate the balance between nearly everything in her life--America and Nigeria, the normal world and the one infused with juju, human and spirit, good daughter and powerful Leopard Person.
Now, those hard lessons and abilities are put to the test in a quest so dangerous and fantastical, it would be madness to go...but may destroy the world if she does not. With the help of her friends, Sunny embarks on a mission to find a precious object hidden deep in an otherworldly realm. Defeating the guardians of the prize will take more from Sunny than she has to give, and triumph will mean she will be forever changed.

ABOUT THE AUTHOR
Nnedi Okorafor is an international award-winning novelist of science fiction and fantasy for children and adults. Born in the United States to Nigerian immigrant parents, Nnedi is known for weaving African culture into evocative settings and memorable characters. Nnedi has received the World Fantasy, Hugo, Nebula, and Lodestar Awards, amongst others, for her books. Her fans include Neil Gaiman, Rick Riordan, John Green, and Ursula K. Le Guin. She holds a PhD in literature and lives in Phoenix, Arizona, with her daughter Anyaugo. Learn more at nnedi.com or follow her on Twitter @nnedi

ABOUT THE MODERATOR
Olivia Fierro is a broadcast journalist and UCLA graduate with a BA in both History and Women's Studies. She puts her curious and talkative nature to good use as co-host of Good Morning Arizona. She's a fan of travel, yoga, and reading, which she shares with the Phoenix community, having launched Olivia's Book Club in 2019.