THIS EVENT HAS BEEN POSTPONED


AUTHOR EVENT
Randy Parraz: Dignity by Fire: Dismantling Arizona's Anti-Immigrant Machine
7PM WEDNESDAY, JANUARY 26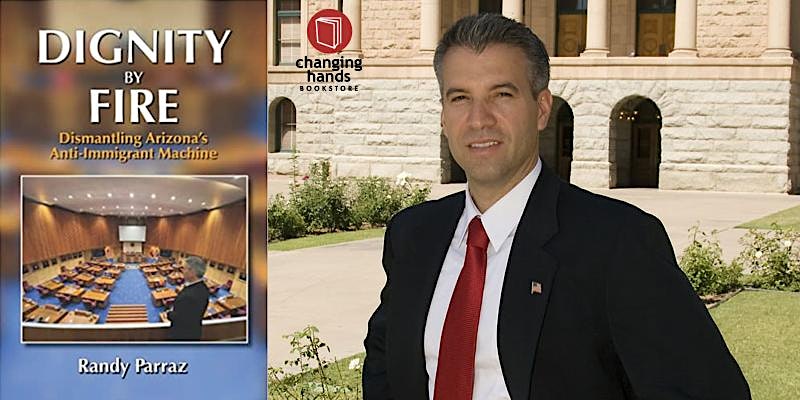 LOCATION | IN-PERSON: TEMPE
A limited number of free tickets are available. You can also support Changing Hands by purchasing the book via Eventbrite below, or by contributing what you can. A suggested contribution of $10 or $20—whatever you can afford—will help keep our virtual event series sustainable and accessible to all. Thank you!
Randy Parraz discusses his book Dignity by Fire: Dismantling Arizona's Anti-Immigrant Machine.

ABOUT THE BOOK
When Arizona passed the nation's most draconian anti-immigrant law in 2010, SB 1070, every effort to stop or reverse this law failed. Randy Parraz, the main organizer of the Pearce recall, provides a behind the scenes perspective of how ordinary citizens can organize and win when others thought it impossible. So how did a small number of Arizonans, led by a progressive Democrat and a Republican Mormon, band together to take down one of the most powerful and extreme politicians responsible for pushing Arizona's anti-immigrant agenda?

ABOUT THE AUTHOR
Randy Parraz is an organizer, social entrepreneur, author, founder of various social justice organizations and currently co-founder and President of the Organizing Institute for Democracy. Randy has spent the past 26 years engaged in the work of building power and moving people into action. Randy's introduction to social justice began when he observed his father, Deputy Sheriff John Parraz, organize the Latino Peace Officers Association in the 1970s to combat discrimination in the recruitment, hiring and retention of Latino officers. Randy's understanding of organizing and framework for building power has been heavily influenced by Ernie Cortes of the Industrial Areas Foundation and Marshall Ganz, a former UFW organizer who worked closely with Cesar Chavez for 16 years. Randy took courses on organizing from both Cortes and Ganz while pursuing his Master's in Public Administration at Harvard's Kennedy School of Government. It was during this time Randy stopped pursuing his life-long goal of being a lawyer and embraced his true calling of becoming an organizer.