FAMILY EVENT
Mo' Joseph: I Did It! I Did It! Zoie Learns to Potty
10AM SATURDAY, JULY 15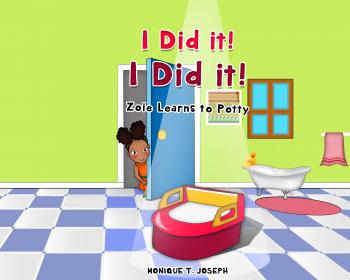 Join Author Mo' Joseph as she shares songs, bubbles and her new children's book I Did It, I Did It: Zoie Learns to Potty. The local parenting blogger and creator of Urban Mommy Inc shares the first in a series of children's books inspired by an African American toddler who learns great lessons in her everyday enchanting world.
Two and a half-year old Afro-puff wearing Zoie realized one day that she could no longer avoid the red potty sitting in her bathroom, so with the help of her trusted friend Snotty and guidance from her parents, she sets out on a great adventure all on her own. Ultimately, she learns a few valuable lessons. The 704 words of this enchanting and whimsical children's board book
I Did It! I Did It! Zoie Learns to Potty
tells an entertaining and unique story of an African American toddler girl whose everyday quest is to learn something new.
ABOUT THE AUTHOR
MONIQUE T. JOSEPH is well-known for her long-term career as an award-winning public relations and marketing expert. Over the past few years, she has become a leading advocate in developing early childhood education initiatives in underrepresented communities and fiercely promoting the advantages of diversity in early development learning.

$16.99
ISBN: 9780998741208
Availability: On Our Shelves Now
Published: Joseph House Books - May 1st, 2017
---