HOSTED BY ARIZONA REPUBLIC REPORTER BARBARA VANDENBURGH
First Draft Book Club: There There by Tommy Orange
7PM WEDNESDAY, JULY 25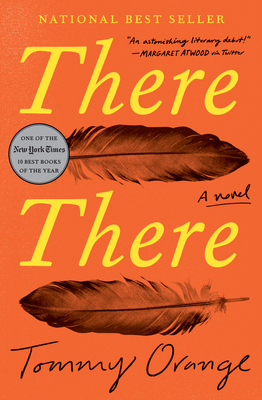 Join us at First Draft Book Bar (the wine and beer bar inside Changing Hands Phoenix) for a discussion of this month's pick, Tommy Orange's There There.
Stop by Changing Hands Phoenix or Tempe (or order online by clicking "add to cart" below) to get your copy of
There There.
Then meet us and
Arizona Republic
reporter Barbara VanDenburgh at First Draft Book Bar to discuss the pick and enjoy
HAPPY HOUR
prices all through the event.
Sign up for Barbara VanDenburgh's weekly "Feel Good 5" newsletter
here
, and join our First Draft Book Club Facebook group
here
.
ABOUT THE BOOK
Fierce, angry, funny, heartbreaking--Tommy Orange's first novel is a wondrous and shattering portrait of an America few of us have ever seen, and it introduces a brilliant new author at the start of a major career.
There There
is a relentlessly paced multigenerational story about violence and recovery, memory and identity, and the beauty and despair woven into the history of a nation and its people. It tells the story of twelve characters, each of whom have private reasons for traveling to the Big Oakland Powwow. Jacquie Red Feather is newly sober and trying to make it back to the family she left behind in shame. Dene Oxendene is pulling his life back together after his uncle's death and has come to work at the powwow to honor his uncle's memory. Opal Viola Victoria Bear Shield has come to watch her nephew Orvil, who has taught himself traditional Indian dance through YouTube videos and has come to the powwow to dance in public for the very first time. There will be glorious communion, and a spectacle of sacred tradition and pageantry. And there will be sacrifice, and heroism, and unspeakable loss.
Here is a voice we have never heard--a voice full of poetry and rage, exploding onto the page with stunning urgency and force. Tommy Orange writes of the plight of the urban Native American, the Native American in the city, in a stunning novel that grapples with a complex and painful history, with an inheritance of beauty and profound spirituality, and with a plague of addiction, abuse, and suicide. An unforgettable debut, destined to become required reading in schools and universities across the country.
WHAT IS FIRST DRAFT BOOK CLUB?
First Draft Book Club is the official book club of
First Draft Book Bar
– the coffee, beer, and wine bar inside Changing Hands Phoenix. Every month,
Arizona Republic
reporter Barbara VanDenburgh picks a hot new book and hosts a guided book club discussion.
Co-sponsored by:

$25.95
ISBN: 9780525520375
Availability: On Our Shelves Now
Published: Knopf - June 5th, 2018
---