Justin A. Campbell: Confessions of an Inner-City Teacher: Transparent. Uncensored. Vital.
7PM THURSDAY, JULY 12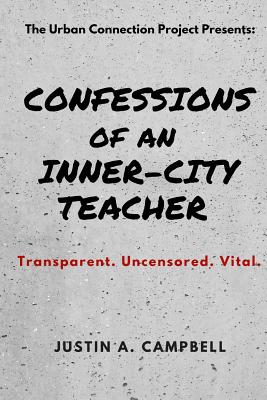 The Urban Connection Project's Founder and CEO, Justin A. Campbell, discusses his book illustrating the effect educators could have on students when preparation and passion mix.
From the publisher:
Our universities and colleges do a great job at providing general education but there is no way for them to prepare you for every school, neighborhood, region or state you step foot in. I taught in one of the poorest districts in the nation and had an amazing experience. There were many things I did well starting off; however, there were also countless opportunities for growth. After reading, you will be able to: - Identify important systems needed in the classroom to enrich classroom management - Relate to students of any background, no matter your outward appearance - Identify and utilize strategies to impact the lives of your most difficult students - Build student-to-student dynamics to enhance learning - Structure the visual appeal in your classroom to stimulate growth and achievement - Make content more relatable to students - Be proud of your decision to impact the lives of inner-city students. Teacher retention is at an all-time low and it takes more than book smarts to be successful teaching our students. This book was written to give a real view of what it takes to effectively and confidently teach students in an inner-city school. Learn from my successes, failures and encounters as I share my story with confidence that it will help you and your students to be successful.
PARKING / LIGHT RAIL
Don't want to drive? Take the Light Rail! It lets off at the Central Avenue/Camelback Park-and-Ride, which has hundreds of free parking spaces across the street from Changing Hands.
ABOUT THE AUTHOR
As native of Detroit, MI, Justin grew up being youngest of three in an educationally driven family. He began working with the youth of Detroit in 2001 as a counselor for the People's I Am Loveable And Capable (IALAC) Summer Program. After working closely with the executive and program director, he was asked to be the Assistant Director/Behavior Specialist. Working extensively with the youth led Justin to obtain a B.S. in Secondary education and Mathematics with a minor in Communications. After college, Justin was promoted to Director of the IALAC program while working for Phoenix Elementary School District as a middle school mathematics instructor during the scholastic year. In 2013, Justin was asked to join the administration team for Michigan's Methodist Youth program where he noticed a lack in cultural competency and understanding of the youth. Upon returning to teach for the following school year, he also began to recognize a need for better prepared educators in the schools. Wanting more time to focus on preparing and developing our stakeholders to effectively work with students, Justin stepped away from teaching, began working for Pearson Education and (along with his wife, Kristen Campbell) founded The Urban Connection Project, where the belief is that some of the greatest minds in the world are waiting to be discovered, molded and encouraged. The Urban Connection Project has worked with many inner-city schools and school districts in both Phoenix and Detroit, MI to mentor in the areas of cultural competency, classroom management, creating relatable content, incorporating restorative practices, breaking down standards to the objective level and much more. Their work often results in less referrals and Out-Of-School Suspensions, sometimes a decrease as high as 50%, but most importantly confident teachers who are ready to impact the lives of their students. Most recently, Justin published a book titled
Confessions of an Inner-City Teacher
: A story about his transition into teaching to give a real view on what it takes to be successful. It takes a village to raise a child, which is why Justin is committed to prepare that village to bring up a new generation of leaders.

$12.00
ISBN: 9780692104828
Availability: On Our Shelves Now
Published: Urban Connection Project LLC - April 2018
---