ONLINE ORDERING HAS BEEN TURNED OFF FOR THIS EVENT
Get your book and ticket in-store before the event, or by phone at 480.730.0205.
TEEN EVENT
Richelle Mead
Midnight Jewel
7PM TUESDAY, JUNE 27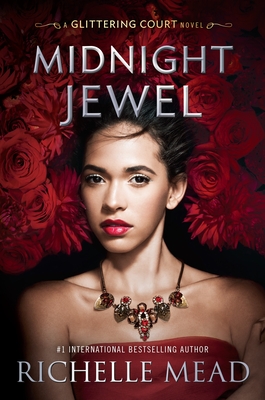 The #1 international bestselling author presents the latest installment of the Glittering Court series about three girls on a quest for freedom and true love.
GET YOUR BOOK AND TICKET
Click "add to cart" at the bottom of the page. We'll send you an email confirmation, plus a second email with more details (usually within 24 hours).
EVENT GUIDELINES
Seating is determined by letter group (indicated on tickets) and opens at 6:30pm.
→ $19.99 + tax: One (1) copy of Midnight Jewel and admission for two (2) people
Signing line forms after the event by letter group printed on tickets.
If time allows, Mead will sign books from home for non-ticket holders.
Event guidelines may be subject to change.
CAN'T MAKE IT?
Click "add to cart" below on the signed copy of
Midnight Jewel
and we'll have it signed and reserved for you. We also ship anywhere in the US and to most international locations!
ABOUT THE BOOK
Mira is not like the other Glittering Court girls. She is a war refugee, cast out of her home country and thrust into another, where she has learned to fight against the many injustices around her. For some, the Glittering Court offers a chance at a life they've only ever dreamed of, one of luxury, glamour, and leisure. But for Mira, it's simply a means to an end. In the new world, she plans to earn off her marriage contract price, and finally be free.
Mira pitches herself as an asset to one of the passengers on board the ship: the sardonic and aloof Grant Elliot, whom she's discovered is a spy for the prestigious McGraw Agency--and her ticket to buying her freedom. His cover blown, Grant has little choice but to take her on. Mira applies herself by day, learning the etiquette and customs that will help to earn her anonymity. By night, she dons a mask and slips into the city, fighting injustice and corruption on her own terms--and impressing Grant with her extraordinary abilities and insights into a brewing rebellion. But the rebellion isn't all they're fighting...
Neither of them can ignore the attraction burning between them--an attraction so powerful, it threatens to unravel everything Mira's worked so hard for. With freedom finally within her grasp, can Mira risk it all for love?
ABOUT THE AUTHOR
RICHELLE MEAD is the author of the international #1 bestselling Vampire Academy series, its bestselling spinoff series Bloodlines, the fantasy standalone
Soundless
, and
The Glittering Court
. A lifelong reader, Richelle has always had a particular fascination with mythology and folklore. When she can actually tear herself away from books (either reading or writing them), she enjoys bad reality TV, traveling, trying interesting cocktails, and shopping for dresses to wear on tour. She is a self-professed coffee addict, works in her pajamas, and has a passion for all things wacky and humorous. Originally from Michigan, Richelle now lives in Seattle, Washington, where she is hard at work on her next novel.