Larry Burk, MD, and Kat O'Keefe-Kanavos: Dreams That Can Save Your Life
7PM MONDAY, JUNE 18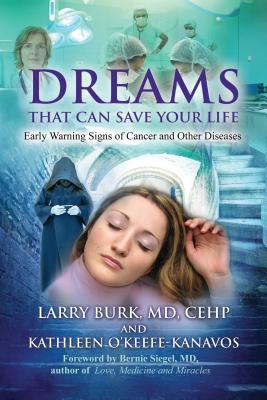 Co-authors Burk and O'Keefe-Kanavos share their book about exploring dreams as a spiritual source of healing and inner guidance for health and well-being.
A vivid, more real-than-real dream that wakes you up and later comes true is one of the most awe-inspiring experiences a human being can have. It can be a life-changing event, especially when the dream is a compelling early warning sign of serious illness that leads to life-saving medical intervention. This unexpected intuitive information may actually prompt conventional diagnostic studies that turn out positive despite a lack of symptoms.
Larry Burk, MD, is a holistic radiologist from Duke University Medical Center whose co-author, Kathleen O'Keefe-Kanavos, is one of the 18 dreamers from his research study of women who had warning dreams about their breast cancers. The book highlights those dreams and also includes dreams about brain, colon, lung, ovarian, prostate, skin, testicular, tongue, and uterine cancers.
Dr. Burk will discuss some of the cases from the book to illustrate the important features of warning dreams. There are additional dreams that provide guidance for healing. He will describe the importance of keeping a dream diary, ways to get information about your health, and how to share the insights with your doctor. There also be some guidelines provided for how to interpret your own dreams.
ABOUT THE AUTHOR
LARRY BURK, MD, did his medical school and radiology residency training at the University of Pittsburgh. He was co-founder of Duke Integrative Medicine and is now a consulting associate in radiology at Duke Hospital. He is a former board president of the Rhine Research Center and has made several presentations on dream diagnosis at the International Association for the Study of Dreams. His previous book was
Let Magic Happen: Adventures in Healing with a Holistic Radiologist.
KATHLEEN O'KEEFE-KANAVOS is a three-time breast cancer survivor whose premonitory dreams diagnosed cancer missed three times by the medical community and the tests on which they relied. Pathology reports validated her dreams. She credits her survival to combining conventional treatment with her dreams as a diagnostic tool. Kathleen speaks to doctors and cancer groups worldwide on the importance of dreams as a tool for life.

$17.99
ISBN: 9781844097449
Availability: Not Available In-Store - Usually Ships from Warehouse in 1-5 Days
Published: Findhorn Press - April 17th, 2018
---