Tom Papa
Your Dad Stole My Rake: And Other Family Dilemmas
2PM SATURDAY, JUNE 16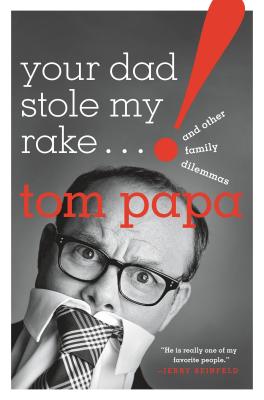 The comedian and head writer for Live From Here with Chris Thile (formerly A Prairie Home Companion) discusses and signs his new book.
It's hard being a person, especially in a family, and no one knows that better than stand-up comedian, family man, and
Live From Here
head writer and performer, Tom Papa.
How do you deal with a life filled with a whole host of characters and their bizarre, inescapable behavior? Especially when you're related to them? Tom Papa is here to help you make sense of it all.
Your Dad Stole My Rake
is a hilarious and warm book that saws deep into every branch of the family tree and uncovers the most bizarre and surprisingly meaningful aspects of our lives. He exposes everyone, from crazy aunts with mustaches, grandparents who communicate by yelling, and uncles who use marijuana as a condiment.
Among the topics covered:
- Tiger Mom v. Ice-Cream Mom
- Stop Trying to be Cool
- In Defense of Family Vacations
- No Fighting Before Coffee
- Least Popular Baby Names
- Wife Lie Detector
- Your Cat Thinks You're Too Needy
Anyone who has a family, grew up in a family, or has spent time with another human being will love this book.
ABOUT THE AUTHOR
TOM PAPA is a comedian known for his work in film, television and radio as well as on the live stage. He is the head writer for
Live From Here
as well as a regular performer on the legendary radio show, which reaches 2.6 million fans weekly. He has recorded three stand-up specials that are all currently streaming. When not touring the country, Tom lives in New York and Los Angeles with his wife and family.

$26.99
ISBN: 9781250144386
Availability: Not Available In-Store - Usually Ships from Warehouse in 1-5 Days
Published: St. Martin's Press - June 5th, 2018
---