David Sedaris
Calypso
4PM SATURDAY, JUNE 15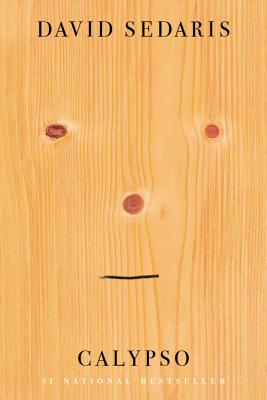 Join #1 international bestseller David Sedaris to celebrate the paperback release of his most personal and darkly hilarious book, Calypso.


GET YOUR BOOK AND TICKET
Order your ticket package at the bottom of the page or through Eventbrite. We'll send you an email confirmation.

TICKET PACKAGES → Seated Ticket: $19.45 + Eventbrite fees: Admission and seating for one (1) person and one (1) signed paperback copy of Calypso. Limited seats available. → Standing Ticket: $19.45 + Eventbrite fees: Admission for one (1) person (standing room only) and one (1) signed paperback copy of Calypso.→ Signing-Only Ticket: $19.45 + Eventbrite fees: Admission for one (1) person (to signing line only) and one (1) signed paperback copy of Calypso. Signing-only line begins forming at 8pm.
Purchase below (at the bottom of the page).
EVENT GUIDELINES
CHECK-IN at the front information counter in Changing Hands Tempe beginning at 3pm.
PICK UP YOUR BOOK at Changing Hands Tempe on event day beginning at 3pm.
SEATING opens (for Seated Ticket holders only) at 3pm.
STANDING ROOM (for Standing Ticket holders) opens after Seated Ticket holders have been seated.
SIGNING-ONLY LINE (Signing-Only Ticket holders) begins forming at 8pm.
EVENT GUIDELINES may be subject to changes.
REFUNDS will not be issued within seven days of the event.
If you miss the event, tickets are non-refundable. In order to receive your book you will need to contact us within 30 days of the event. After 30 days, you will receive a trade credit to Changing Hands Bookstore for the cost of the book + tax.
CAN'T MAKE IT?
Call 480.730.0205 to order a signed copy of
Calypso
and we'll have it signed and reserved for you. We also ship anywhere in the US and to most international locations!
ABOUT THE BOOK
David Sedaris returns with his most deeply personal and darkly hilarious book.
If you've ever laughed your way through David Sedaris's cheerfully misanthropic stories, you might think you know what you're getting with
Calypso
. You'd be wrong.
When he buys a beach house on the Carolina coast, Sedaris envisions long, relaxing vacations spent playing board games and lounging in the sun with those he loves most. And life at the Sea Section, as he names the vacation home, is exactly as idyllic as he imagined, except for one tiny, vexing realization: it's impossible to take a vacation from yourself.
With
Calypso
, Sedaris sets his formidable powers of observation toward middle age and mortality. Make no mistake: these stories are very, very funny--it's a book that can make you laugh 'til you snort, the way only family can. Sedaris's powers of observation have never been sharper, and his ability to shock readers into laughter unparalleled. But much of the comedy here is born out of that vertiginous moment when your own body betrays you and you realize that the story of your life is made up of more past than future.
This is beach reading for people who detest beaches, required reading for those who loathe small talk and love a good tumor joke.
Calypso
is simultaneously Sedaris's darkest and warmest book yet--and it just might be his very best.
ABOUT THE AUTHOR
David Sedaris is the author of the bestsellers
Barrel Fever
and
Holidays on Ice
, as well as collections of personal essays,
Naked
,
Me Talk Pretty One Day
, and
Dress Your Family in Corduroy and Denim
, each of which became immediate bestsellers. There are a total of seven million copies of his books in print and they have been translated into 25 languages. Sedaris's original radio pieces can often be heard on
This American Life
, distributed nationally by Public Radio International and produced by WBEZ. In 2001, David Sedaris became the third recipient of the Thurber Prize for American Humor. He was named by
Time
magazine as "Humorist of the Year" in 2001. David Sedaris was nominated for two Grammy Awards for Best Spoken Word Album ("Dress Your Family in Corduroy & Denim") and Best Comedy Album ("David Sedaris: Live at Carnegie Hall"). In 2008 the audio version of
When You Are Engulfed in Flames
was nominated for a Grammy in the Best Spoken Word category.