Jordan Lee Dooley
Own Your Everyday
7PM MONDAY, JUNE 17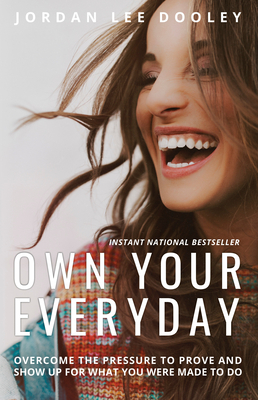 The author and podcaster shares her new book, a "girlfriend's guide to a purpose-driven life."
GET YOUR BOOK AND TICKET
Order your ticket package at the bottom of the page or through Eventbrite. We'll send you an email confirmation.
TICKETS
→ General Admission: $20.62 + fees: Admission for one (1) person and one (1) signed copy of Own Your Everyday.
Purchase below (at the bottom of the page).
EVENT GUIDELINES
CHECK-IN at the front information counter in Changing Hands Phoenix beginning at 6:30pm.
SEATING opens at 6:30pm and is determined by letter group printed on signing line voucher handed out at check-in.
PICK UP YOUR BOOK at Changing Hands Phoenix on event day beginning at 6:30pm.
SIGNING LINE forms after the event by letter group printed on signing line vouchers handed out at check-in.
EVENT GUIDELINES may be subject to changes.
REFUNDS will not be issued within seven days of the event.
CAN'T MAKE IT?
Call 602.274.0067 to order a signed copy of
Own Your Everyday
and we'll have it signed and reserved for you. We also ship anywhere in the US and to most international locations!
ABOUT THE BOOK
Does it ever seem like you still have to find your purpose or that you're stuck with "unfigured-out dreams"? Do you feel the pressure to prove yourself or worry about what others will think?
You are not the only one.
From accidentally starting a small business instead of using her college degree, to embarrassing herself onstage in front of thousands, to wasting time worrying about what others think or say, Jordan Lee Dooley knows exactly how that feels—and she's learned some important lessons about living a purposeful life along the way.
An influential millennial widely recognized for her tagline turned international movement, "Your Brokenness is Welcome Here," Jordan has become a go-to source that women around the world look to for inspiration in their faith, work, relationships, and everyday life.
Now, in this approachable but actionable read that's jam-packed with practical tools, Jordan equips you to
• tackle obstacles such as disappointment, perfectionism, comparison, and distraction
• remove labels and break out of the box of expectations
• identify and eliminate excuses and unnecessary stress about an unknown future
• overcome the lie that you can't live your God-given purpose until you reach a certain goal or milestone
If you ever feel you need to shift your mindset but don't know how, this book will help you overcome shame, practice gratitude, and redefine success.
ABOUT THE AUTHOR
Jordan Lee Dooley
has built a massive online following by sharing creative and practical tools to equip the everyday woman for a purposeful life. Embracing her Indiana roots, Jordan shares a simple life with her husband, Matt, and their dog, Hoosier.