Tan France
Naturally Tan: A Memoir
7PM FRIDAY, JUNE 14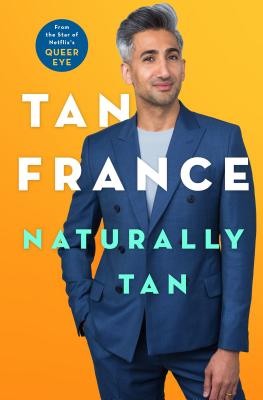 Author, fashion designer, and star of Netflix's overnight sensation Queer Eye, Tan France shares his memoir – telling the origin story of one of the few openly gay South Asian men on television.
GET YOUR BOOK AND TICKET
Order your ticket package at the bottom of the page. We'll send you an email confirmation.
TICKET PACKAGES
→ Ticket Package 1: $36.40 + fees: One (1) signed hardcover copy of Naturally Tan and admission for one (1) person.
→ Ticket Package 2: $42.40 + fees: One (1) signed hardcover copy of Naturally Tan and admission for two (2) people.
Purchase below (at the bottom of the page).
EVENT GUIDELINES
WILL-CALL opens at 6pm in the Orpheum lobby. Please check in here to be admitted into the event.
PICK UP YOUR SIGNED BOOK at will-call in the Orpheum lobby beginning at 6pm.
SEATING is general admission and opens at 6pm.
PARKING is available in several lots near the Orpheum. Check out this map for more info »
MEET-AND-GREET after the moderated presentation (for fan selfies with Mr. France).
EVENT GUIDELINES may be subject to changes.
REFUNDS will not be issued within seven days of the event.
Tan France will pre-sign copies of Naturally Tan before the event.
CAN'T MAKE IT?
Call 602.274.0067 to order a signed copy of
Naturally Tan
and we'll have it signed and reserved for you. We also ship anywhere in the US and to most international locations!
ABOUT THE BOOK
In this heartfelt, funny, touching memoir, Tan France tells his origin story for the first time. With his trademark wit, humor, and radical compassion, Tan reveals what it was like to grow up gay in a traditional South Asian family, as one of the few people of color in South Yorkshire, England. He illuminates his winding journey of coming of age, finding his voice (and style!), and how he finally came out to his family at the age of 34, revealing that he was happily married to the love of his life--a Mormon cowboy from Salt Lake City.
In Tan's own words, "The book is meant to spread joy, personal acceptance, and most of all understanding. Each of us is living our own private journey, and the more we know about each other, the healthier and happier the world will be."
ABOUT THE AUTHOR
TAN FRANCE has been a successful fashion designer behind-the-scenes for over 15 years, and now steps into the spotlight as the star of Emmy-winning makeover hit, and Netflix re-boot,
Queer Eye
. Surrounded by an all new cast, France is the witty wardrobe wiz leading the charge in the fashion department and is ready to make America fabulous again one makeover at a time. This experience is so much more than just new clothes to the British born fashion advisor however, it's about real-life issues, changes and acceptance on all sides.
The epitome of style and class, Tan is the creative mind behind successful brands including the popular ladies clothing lines Kingdom & State and Rachel Parcell, Inc. Prior to his personal success as a designer, he spent his summers working in his grandfather's denim factory while he secretly enrolled in fashion college in preparation to start a new chapter as a fabulous design star.