ONLINE ORDERING HAS BEEN TURNED OFF FOR THIS EVENT
Get your book and ticket in-store before the event, or by phone at 480.730.0205.
Sarah J. Maas in conversation with Rae Carson: Queen of Shadows
7PM WEDNESDAY, SEPTEMBER 2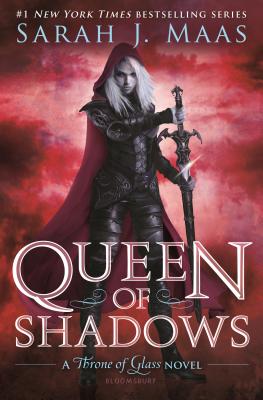 The New York Times bestselling author of Throne of Glass discusses the fourth book in her teen fantasy series with local author Rae Carson, author of the bestselling Girl of Fire and Thorns series
Everyone Celaena Sardothien loves has been taken from her. But she's at last returned to the empire-for vengeance, to rescue her once-glorious kingdom, and to confront the shadows of her past... She has embraced her identity as Aelin Galathynius, Queen of Terrasen. But before she can reclaim her throne, she must fight. She will fight for her cousin, a warrior prepared to die just to see her again. She will fight for her friend, a young man trapped in an unspeakable prison. And she will fight for her people, enslaved to a brutal king and awaiting their lost queen's triumphant return.
PURCHASE TICKETS
You can purchase tickets in-store at Tempe.
EVENT DETAILS
TICKET (admits two) is free with book purchase from Changing Hands.

Letter groups (printed on top of ticket) will be called at 6:30pm to fill seats and designated standing room.
If available, seating and standing room opens to those without tickets at 6:50pm.
Booksigning line forms by assigned letter group after the presentation.
Sarah will sign up to 3 books per person.
Those without tickets may get their books signed after ticket-holders, if time allows.
Space cannot be guaranteed for late arrivals.

Event details may be subject to unannounced changes.
CAN'T MAKE IT? If you'd like a signed book from any of our author events order in-store at Changing Hands Tempe. We also ship anywhere in the US and to most international locations!
ABOUT THE AUTHOR
SARAH J. MAAS is the author of the
New York Times
bestselling Throne of Glass series:
Throne of Glass, Crown of Midnight
, and
Heir of Fire
, and the series' prequel,
The Assassin's Blade
; as well as
A Court of Thorns and Roses
. A New York native, Sarah currently lives in Pennsylvania with her husband and dog.
ABOUT THE HOST
RAE CARSON is the author of the
New York Times
bestselling Girl of Fire and Thorns series and the upcoming book, Walk on Earth a Stranger (out
September 22)
. Her books tend to contain lots of adventure, magic, and smart girls who make (mostly) smart choices. Originally from California, Rae Carson now lives in Arizona with her husband.