Peter Selgin: The Inventors: A Memoir
Peter Selgin: The Inventors: A Memoir
7PM THURSDAY, MARCH 2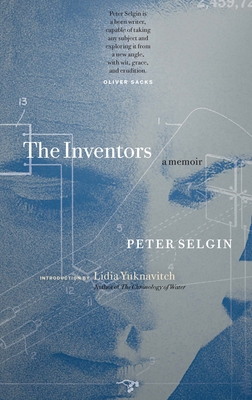 The Flannery O'Connor Award for Fiction winner presents his latest, a memoir of his adolescent years with an emotionally remote father and a passionate young teacher.
Why do we write memoir? The reasons are many. Preservation or commemoration? Investigation or discovery? Join noted memoirist Peter Selgin as he explores the purpose of memoir writing -- for both author and reader--and how to transform personal memories into literature.
Selgin explores what happens when two important people in his life turned out to be utterly different than what they had said. In his recent book
The Inventors
, he contemplates the masks we create for ourselves in our daily lives.
The Inventors
is the story of a man's search for his father and a boy's passionate relationship with his teacher, of how these two enigmas shaped that boy's journey into manhood, filling him with a sense of his own unique destiny. It is a story of promises kept and broken as the author uncovers the truth—about both men, and about himself. For like them—like all of us—Peter Selgin, too, is his own inventor.
Co-sponsored by ASU Master of Liberal Studies Program
ABOUT THE AUTHOR
PETER SELGIN is the author of
Drowning Lessons
, winner of the Flannery O'Connor Award for Fiction, a novel, two books on the craft of writing fiction, and two children's books. His work has appeared in the
Colorado Review
,
Gettysburg Review
,
Missouri Review
,
The Sun
,
Glimmer Train
,
Creative Nonfiction
,
Fourth Genre
, among others. He has won the Missouri Review Editors' Prize, the Dana Award, several Pushcart nominations, a dozen Best Notable Essay citations, and two inclusions in the Best American Essays Series. His essay collection,
Confessions of a Left-Handed Man
, was short-listed for the William Saroyan International Prize for Writing. His novel-in-manuscript,
The Water Master
, won the Faulkner Society Prize for Best Novel. His most recent book,
The Inventors
, a memoir, was selected by the Library Journal as one of the best memoirs of 2016. In his starred review Derek Sanderson wrote, "[
The Inventors
] is book destined to become a modern classic." Selgin's plays have been published and produced nationally. Also a graphic artist and illustrator, Selgin's work has been featured in The New Yorker, Gourmet, The Wall Street Journal, Outside, and many other publications. Selgin teaches at Antioch University's low-residency MFA program and is an Assistant Professor of English at Georgia College & State University.

$18.95
ISBN: 9780989360470
Availability: Not Available In-Store - Usually Ships from Warehouse in 1-5 Days
Published: Hawthorne Books - March 29th, 2016
---