David Rapp: Tinker to Evers to Chance: The Chicago Cubs and the Dawn of Modern America
7PM WEDNESDAY, MARCH 21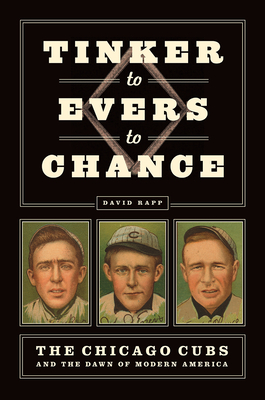 As the Chicago Cubs get ready for their new season at Sloan Park, Washington journalist David Rapp relives the team's origin story and its climb to baseball immortality.
He shares his extensive research of three ball iconic ballplayers, their very different regional backgrounds, and their coming of age in Chicago to form a baseball dynasty—and a new national sports craze.
Their names were chanted, crowed, and cursed. Alone they were a shortstop, a second baseman, and a first baseman. But together they were an unstoppable force. Joe Tinker, Johnny Evers, and Frank Chance came together in early twentieth-century Chicago and soon formed the defensive core of the most formidable team in big league baseball, leading the Chicago Cubs to four National League pennants and two World Series championships from 1906 to 1910. At the same time, baseball was transforming from small-time diversion into a nationwide sensation. Americans from all walks of life became infected with "baseball fever."
Tinker to Evers to Chance
examines this pivotal moment in American history, when baseball became the game we know today. Each man brought a distinctive local culture with him: Evers from the Irish-American hothouse of Troy, New York; Tinker from the urban parklands of Kansas City, Missouri; Chance from the verdant fields of California's Central Valley. Their stories shed unexpected light not only on the evolution of baseball, on the enthusiasm of its players and fans all across America, but also on the broader convulsions transforming the US into a confident new industrial society.
This iconic trio helped baseball reinvent itself, but their legend has largely been relegated to myths and barroom trivia. David Rapp, a longtime journalist in Washington, DC., resets the story and brings these men to life again — a rare look at the forces behind baseball's emergence as the national pastime.

$27.50

ISBN: 9780226415048
Availability: Special Order - Subject to Availability
Published: University of Chicago Press - April 2nd, 2018
---