IN CONVERSATION WITH JAMES ANDERSON
Bruce Berger: A Desert Harvest: New and Selected Essays
7PM WEDNESDAY, MARCH 20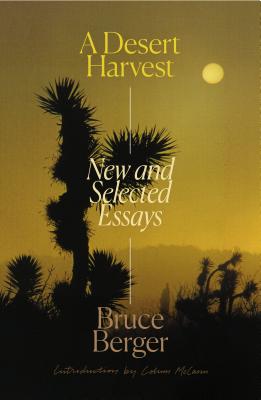 Award-winning nonfiction writer Bruce Berger (A Desert Harvest) and James Anderson, critically-acclaimed author of The Never-Open Desert Diner, join together to read and discuss their writing and fondness for the American desert.
Friends for three decades, Berger and Anderson will explore the ways Berger's nonfiction and Anderson's fiction connect, often in surprising ways.
Occupying a space between traditional nature writing, memoir, journalism, and prose poetry, Bruce Berger's essays are beautiful, subtle, and haunting meditations on the landscape and culture of the American Southwest. Combining new, unpublished essays with selections from his acclaimed trilogy of "desert books"—
The Telling Distance, There Was a River
, and
Almost an Island
—
A Desert Harvest
is a career-spanning selection of the best work by this unique and undervalued voice.
Wasteland architecture, mountaintop astronomy, Bach in the wilderness, the mind of the wood rat, the canals of Phoenix, and the numerous eccentric personalities who call the desert their home all come to life in these fascinating portraits of America's seemingly desolate terrains.
PARKING / LIGHT RAIL
Don't want to drive? Take the Light Rail! It lets off at the Central Avenue/Camelback Park-and-Ride, which has hundreds of free parking spaces across the street from Changing Hands.
ABOUT THE AUTHORS
Bruce Berger grew up in suburban Chicago. A poet and nonfiction writer, he is best known for a series of books exploring the intersections of nature and culture in desert settings. The first of these,
The Telling Distance
, won the 1990 Western States Book Award and the 1991 Colorado Book Award. His articles and essays have appeared in
The New York Times
,
Sierra
,
Orion Magazine
,
Gramophone
, and numerous literary quarterlies; his poems have appeared in
Poetry
,
Barron's
,
Orion Magazine
, and various literary reviews in the United States, Scotland, and India, and have been collected in
Facing the Music
.
James Anderson is the author of two critically acclaimed novels from Crown,
The Never-Open Desert Diner
(2015) and
Lullaby Road
(2018). His novels are in print in eight languages. Anderson attended Reed College and graduate school in Boston. His poetry, short fiction and essays have been widely published in magazines and journals. He divides his time between Ashland, Oregon and the Four Corners region of the American southwest.

$26.00
ISBN: 9780374220570
Availability: Not Available In-Store - Usually Ships from Warehouse in 1-5 Days
Published: Farrar, Straus and Giroux - March 12th, 2019
---