Edward Lee: Buttermilk Graffiti: A Chef's Journey to Discover America's New Melting-Pot Cuisine
6PM MONDAY, MARCH 18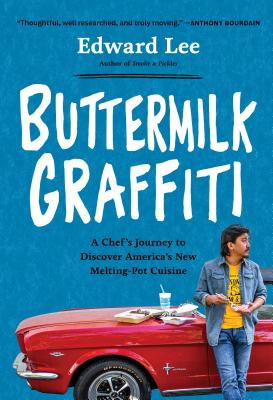 Author, chef, and restaurateur Edward Lee shares his latest, delving into the intersection of food and culture on an epic trip across America where he finds exceptional food in unconventional places.
American food is the story of mash-ups. Immigrants arrive, cultures collide, and out of this push-pull come exciting new dishes and flavors. But for Edward Lee, who, like Anthony Bourdain or Gabrielle Hamilton, is as much a writer as he is a chef, that first surprising bite is just the beginning. What about the people behind the food? What about the traditions, the innovations, the memories? A natural-born storyteller, Lee decided to hit the road and spent two years uncovering fascinating narratives from every corner of the country. There's a Cambodian couple in Lowell, Massachusetts, and their efforts to re-create the flavors of their lost country. A Uyghur café in New York's Brighton Beach serves a noodle soup that seems so very familiar and yet so very exotic—one unexpected ingredient opens a window onto an entirely unique culture. A beignet from Café du Monde in New Orleans, as potent as Proust's madeleine, inspires a narrative that tunnels through time, back to the first Creole cooks, then forward to a Korean rice-flour hoedduck and a beignet dusted with matcha. Sixteen adventures, sixteen vibrant new chapters in the great evolving story of American cuisine. And forty recipes, created by Lee, that bring these new dishes into our own kitchens.
PLEASE NOTE: Southern Rail restaurant is hosting a dinner with Chef Lee at 7pm, featuring recipes from Buttermilk Graffiti and Smoke & Pickles. (One autographed copy of Buttermilk Graffiti included with ticket price.) Tickets on sale now
PARKING / LIGHT RAIL
Don't want to drive? Take the Light Rail! It lets off at the Central Avenue/Camelback Park-and-Ride, which has hundreds of free parking spaces across the street from Changing Hands.
ABOUT THE AUTHOR
Edward Lee is the author of
Smoke & Pickles
; chef/owner of 610 Magnolia, MilkWood, and Whiskey Dry in Louisville, Kentucky; and culinary director of Succotash in National Harbor, Maryland, and Penn Quarter, Washington, DC. He appears frequently in print and on television, including earning an Emmy nomination for his role in the Emmy Award–winning series
The Mind of a Chef
. Most recently, he wrote and hosted the feature documentary Fermented. He lives in Louisville and Washington, DC, and you can find him on Instagram and Twitter @chefedwardlee.

$15.95
ISBN: 9781579659004
Availability: On Our Shelves Now
Published: Artisan - March 5th, 2019
---