CHANGING HANDS BOOK CLUB
Found in Translation: Moonbath by Yanick Lahens, translated by Emily Gogolak
7PM WEDNESDAY, MARCH 13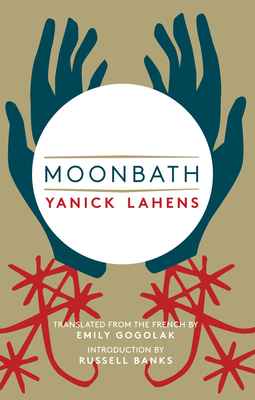 This month we'll discuss Moonbath by Yanick Lahens, translated by Emily Gogolak.
Whether you're a seasoned traveler, a voracious reader, or a dreamer who wants to see the world, all are invited to our newest book club focused on international literature. Sometimes visiting other countries doesn't always give travelers an insider's view into foreign cultures; sometimes we are still too outside, too different, to get at the heart of a place. Often the best way to understand distant lands and peoples is to read their literature, to get inside the head of a foreign author, to hear their myths and fairy tales molded around words they penned in their mother tongue.
In Found in Translation, we will delve into a work of international literature in a small group setting while enjoying coffee, beer, or wine drinks from First Draft Book Bar, located in Changing Hands Phoenix.
Stop by Changing Hands Phoenix or Tempe (or order online by clicking "add to cart" below) to get your copy of
Moonbath
for
10% OFF
.
Then meet us at First Draft Book Bar to discuss the pick and enjoy
HAPPY HOUR
prices all through the event.
FREE PARKING / LIGHT RAIL
Don't want to drive? Take the Light Rail! It lets off at the Central Avenue/Camelback Park-and-Ride, which has hundreds of free parking spaces across the street from Changing Hands.
ABOUT THE BOOK
After she is found washed up on shore, Cétoute Olmène Thérèse, bloody and bruised, recalls the circumstances that led her there. Her voice weaves hauntingly in and out of the narrative, as her story intertwines with those of three generations of women in her family, beginning with Olmène, her grandmother.
Olmène, barely sixteen, catches the eye of the cruel and powerful Tertulien Mésidor, despite the generations-long feud between their families which cast her ancestors into poverty. He promises her shoes, dresses, land, and children who will want for nothing...and five months after moving into her new home, she gives birth to a son. As the family struggles through political and economic turmoil, the narrative shifts between the voices of four women, their lives interwoven with magic and fraught equally with hope and despair, leading to Cétoute's ultimate, tragic fate.
Yanick Lahens was born in Port-au-Prince in 1953 and is one of Haiti's most prominent authors. She published her first novel in 2000, was awarded the prestigious Prix Femina in 2014 for
Moonbath
, and is the 2016 winner of a French Voices Award.

$14.95
ISBN: 9781941920565
Availability: On Our Shelves Now
Published: Deep Vellum Publishing - October 3rd, 2017
---