Michael Bazzett: The Popul Vuh
7PM MONDAY, MARCH 18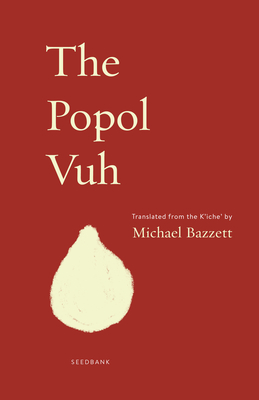 Poet Michael Bazzett reads from The Popol Vuh, his new verse translation of the Mayan creation epic.
The book was selected by
The
New York Times
as a top ten poetry book of 2018 and hailed by the
Wall Street Journal
for offering "a welcome path into the power of
The Popol Vuh
as beautiful literature."
In the beginning, the world is spoken into existence with one word: "Earth." There are no inhabitants, and no sun--only the broad sky, silent sea, and sovereign Framer and Shaper. Then come the twin heroes Hunahpu and Xbalanque. Wielding blowguns, they begin a journey to hell and back, ready to confront the folly of false deities as well as death itself, in service to the world and to humanity.
This is the story of the Mayan
Popol Vuh
, "the book of the woven mat," one of the only epics indigenous to the Americas. Originally sung and chanted, before being translated into prose--and now, for the first time, translated back into verse by Michael Bazzett--this is a story of the generative power of language. A story that asks not only
Where did you come from?
but
How might you live again?
A story that, for the first time in English, lives fully as "the phonetic rendering of a living pulse."
ABOUT THE AUTHOR
Michael Bazzett is the author of
You Must Remember This
, which received the 2014 Lindquist & Vennum Prize for Poetry, and The Interrogation. He is also the translator of
The Popul Vuh
, the first English verse translation of the Mayan creation epic from Milkweed Editions, and the chapbook Imaginary City (OW! Arts). His poems have appeared in numerous publications, including
Ploughshares
,
The Sun
,
Massachusetts Review
,
Pleiades
, and
Best New Poets
. A longtime faculty member at The Blake School, Bazzett has received the Bechtel Prize from Teachers & Writers Collaborative and is a 2017 National Endowment for the Arts Fellow. He lives in Minneapolis.

$16.00
ISBN: 9781571314680
Availability: On Our Shelves Now
Published: Milkweed Editions - October 9th, 2018
---