Thomas Mallon: Landfall
4PM SATURDAY, MARCH 2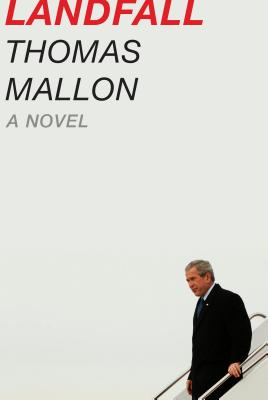 The author of 10 novels, including Henry and Clara, Dewey Defeats Truman, Fellow Travelers, and Watergate, shares his latest.
Set during the tumultuous middle of the George W. Bush years—amid the twin catastrophes of the Iraq insurgency and Hurricane Katrina—
Landfall
brings Thomas Mallon's cavalcade of contemporary American politics, which began with
Watergate
and continued with
Finale
, to a vivid and emotional climax.
The president at the novel's center possesses a personality whose high-speed alternations between charm and petulance, resoluteness and self-pity, continually energize and mystify the panoply of characters around him. They include his acerbic, crafty mother, former First Lady Barbara Bush; his desperately correct and eager-to-please secretary of state, Condoleezza Rice; the gnomic and manipulative Donald Rumsfeld; foreign leaders from Tony Blair to Vladimir Putin; and the caustic one-woman chorus of Ann Richards, Bush's predecessor as governor of Texas. A gallery of political and media figures, from the widowed Nancy Reagan to the philandering John Edwards to the brilliantly contrarian Christopher Hitchens, bring the novel and the era to life.
The story is deepened and driven by a love affair between two West Texans, Ross Weatherall and Allison O'Connor, whose destinies have been affixed to Bush's since they were teenagers in the 1970s. The true believer and the skeptic who end up exchanging ideological places in a romantic and political drama that unfolds in locations from New Orleans to Baghdad and during the parties, press conferences, and state funerals of Washington, D.C.
PARKING / LIGHT RAIL
Don't want to drive? Take the Light Rail! It lets off at the Central Avenue/Camelback Park-and-Ride, which has hundreds of free parking spaces across the street from Changing Hands.
ABOUT THE AUTHOR
THOMAS MALLON is the author of ten novels, including
Henry and Clara
,
Dewey Defeats Truman
,
Fellow Travelers
, and
Watergate
.
Fellow Travelers
has been made into a contemporary opera that is regularly performed throughout the United States. Mallon is a frequent contributor to
The New Yorker
and
The New York Times Book Review
, and in 2011 he received the American Academy of Arts and Letters' Harold D. Vursell Memorial Award for prose style. He has been the literary editor of
GQ
and the deputy chairman of the National Endowment for the Humanities. He lives in Washington, D.C.

$29.95
ISBN: 9781101871058
Availability: Not Available In-Store - Usually Ships from Warehouse in 1-5 Days
Published: Pantheon - February 19th, 2019
---