THIS EVENT HAS BEEN CANCELLED
HOSTED BY USA TODAY BOOKS REPORTER BARBARA VANDENBURGH
First Draft Book Club: Apeirogon by Colum McCann
7PM WEDNESDAY, MARCH 25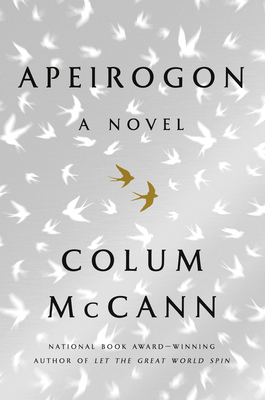 Join us at First Draft Book Bar (the wine and beer bar inside Changing Hands Phoenix) for a discussion of this month's pick, Apeirogon by Colum McCann.
Stop by Changing Hands Phoenix or Tempe (or order online by clicking "add to cart" below) to get your copy of
Apeirogon.
Then meet us and
USA Today
Books Reporter Barbara VanDenburgh at First Draft Book Bar to discuss the pick and enjoy
HAPPY HOUR
prices all through the event.
Sign up for Barbara VanDenburgh's weekly "Feel Good 5" newsletter
here
, and join our First Draft Book Club Facebook group
here
.
ABOUT THE BOOK
From the National Book Award–winning and bestselling author of Let the Great World Spin comes an epic novel rooted in the unlikely real-life friendship between two fathers.

Bassam Aramin is Palestinian. Rami Elhanan is Israeli. They inhabit a world of conflict that colors every aspect of their lives, from the roads they are allowed to drive on to the schools their children attend to the checkpoints, both physical and emotional, they must negotiate.

But their lives, however circumscribed, are upended one after the other: first, Rami's thirteen-year-old daughter, Smadar, becomes the victim of suicide bombers; a decade later, Bassam's ten-year-old daughter, Abir, is killed by a rubber bullet. Rami and Bassam had been raised to hate one another. And yet, when they learn of each other's stories, they recognize the loss that connects them. Together they attempt to use their grief as a weapon for peace—and with their one small act, start to permeate what has for generations seemed an impermeable conflict.

This extraordinary novel is the fruit of a seed planted when the novelist Colum McCann met the real Bassam and Rami on a trip with the non-profit organization Narrative 4. McCann was moved by their willingness to share their stories with the world, by their hope that if they could see themselves in one another, perhaps others could too.

With their blessing, and unprecedented access to their families, lives, and personal recollections, McCann began to craft Apeirogon, which uses their real-life stories to begin another—one that crosses centuries and continents, stitching together time, art, history, nature, and politics in a tale both heartbreaking and hopeful. The result is an ambitious novel, crafted out of a universe of fictional and nonfictional material, with these fathers' moving story at its heart.
WHAT IS FIRST DRAFT BOOK CLUB?
First Draft Book Club is the official book club of
First Draft Book Bar
– the coffee, beer, and wine bar inside Changing Hands Phoenix. Every month,
USA Today
Books Reporter Barbara VanDenburgh picks a hot new book and hosts a guided book club discussion.
Co-sponsored by: