CHANGING HANDS BOOK CLUB
Found in Translation: The Story of a Goat by Perumal Murugan, translated by N. Kalyan Raman
7PM WEDNESDAY, MARCH 11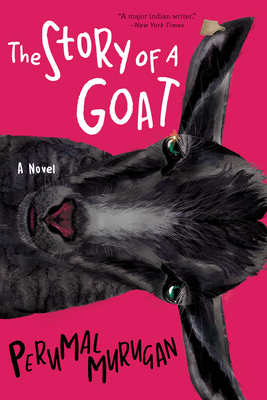 This month we'll discuss The Story of a Goat by Perumal Murugan, translated by N. Kalyan Raman.
Whether you're a seasoned traveler, a voracious reader, or a dreamer who wants to see the world, all are invited to our newest book club focused on international literature. Sometimes visiting other countries doesn't always give travelers an insider's view into foreign cultures; sometimes we are still too outside, too different, to get at the heart of a place. Often the best way to understand distant lands and peoples is to read their literature, to get inside the head of a foreign author, to hear their myths and fairy tales molded around words they penned in their mother tongue.
In Found in Translation, we will delve into a work of international literature in a small group setting while enjoying coffee, beer, or wine drinks from First Draft Book Bar, located in Changing Hands Phoenix.
Stop by Changing Hands Phoenix or Tempe (or order online by clicking "add to cart" below) to get your copy of
The Story of a Goat
for
10% OFF
.
Then meet us at First Draft Book Bar to discuss the pick and enjoy
HAPPY HOUR
prices all through the event.
FREE PARKING / LIGHT RAIL
Don't want to drive? Take the Light Rail! It lets off at the Central Avenue/Camelback Park-and-Ride, which has hundreds of free parking spaces across the street from Changing Hands.
ABOUT THE BOOK
From one of India's best-known writers and the author of the National Book Award-longlisted One Part Woman comes a charming and surprising tale of an orphaned goat and the family that decides to take care of her, despite the potential cost to them
As he did in the award-winning One Part Woman, in his newest novel, The Story of a Goat, Perumal Murugan explores a side of India that is rarely considered in the West: the rural lives of the country's farming community. He paints a bucolic yet sometimes menacing portrait, showing movingly how danger and deception can threaten the lives of the weakest through the story of a helpless young animal lost in a world it naively misunderstands.
As the novel opens, a farmer in Tamil Nadu is watching the sunset over his village one quiet evening when a mysterious stranger, a giant man who seems more than human, appears on the horizon. He offers the farmer a black goat kid who is the runt of the litter, surely too frail to survive. The farmer and his wife take care of the young she-goat, whom they name Poonachi, and soon the little goat is bounding with joy and growing at a rate they think miraculous for such a small animal. Intoxicating passages from the goat's perspective offer a bawdy and earthy view of what it means to be an animal and a refreshing portrayal of the natural world. But Poonachi's life is not destined to be a rural idyll--dangers can lurk around every corner, and may sometimes come from surprising places, including a government that is supposed to protect the weak and needy. Is this little goat too humble a creature to survive such a hostile world?
With allegorical resonance for contemporary society and examining hierarchies of caste and color, The Story of the Goat is a provocative but heartwarming fable from a world-class storyteller who is finally achieving recognition outside his home country.

$14.40
ISBN: 9780802147516
Availability: On Our Shelves Now
Published: Grove Press, Black Cat - December 10th, 2019
---