THIS EVENT HAS BEEN POSTPONED
Lois Zachary and Lisa Fain: Bridging Differences for Better Mentoring: Lean Forward, Learn, Leverage
7PM THURSDAY, MARCH 19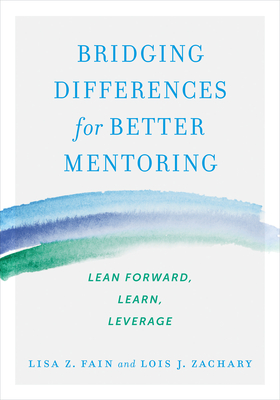 Lisa Fain and Lois Zachary discuss their new book, a comprehensive guide to helping mentors and mentees bridge gaps between and among cultures to make genuine connections and to learn from each other.
This first comprehensive guide to helping mentors and mentees bridge gaps between and among cultures--a growing issue in today's diverse workplace--is coauthored by the founder and CEO of the Center for Mentoring Excellence.
As the workplace has become more diverse, mentoring has become more challenging. Mentors and mentees may come from very different backgrounds and have limited understanding of each other's cultures and outlooks. But mentoring remains the most powerful tool for creating meaningful relationships, furthering professional development, and increasing engagement and retention. Younger workers and emerging leaders in particular are demanding it.
Lisa Z. Fain and Lois J. Zachary offer a timely, evidence-based, practical guide for helping mentors develop the level of cultural competency needed to bridge differences. Firmly rooted in Zachary's well-known four-part mentoring model, the book uses three fictional scenarios featuring three pairs of diverse mentors and mentees to illustrate how key concepts can play out in real life. It offers an array of accessible tools and strategies designed to help you increase your self-awareness and prepare you to embrace and leverage differences in your mentoring relationships. But beyond tips and techniques, Fain and Zachary emphasize that authenticity is the key--the ultimate purpose of this book is to help the mentor and mentee make a genuine connection and learn from each other. That's when the magic really happens.
PARKING / LIGHT RAIL
Don't want to drive? Take the Light Rail! It lets off at the Central Avenue/Camelback Park-and-Ride, which has hundreds of free parking spaces across the street from Changing Hands.
ABOUT THE AUTHOR
Lisa Fain
is the CEO of the Center for Mentoring Excellence, a global speaker and an expert on the intersection of mentoring and diversity and inclusion. A former management-side employment attorney, she built and led the diversity and inclusion function at Outerwall (the former parent company to automated retail giants Redbox and Coinstar). Lisa is also a certified coach through International Coach Academy and provides group and executive coaching to emerging women leaders.
Lois Zachary is the founder of Leadership Development Services and its Center for Mentoring Excellence. Her book, The Mentor's Guide, is a primary resource for organizations that promote mentoring for leadership and learning. She is also the author of The Mentee's Guide, Creating a Mentoring Culture, and Starting Strong.

$32.95
ISBN: 9781523085897
Availability: Not Available In-Store - Usually Ships from Warehouse in 1-5 Days
Published: Berrett-Koehler Publishers - February 25th, 2020
---