AUTHOR EVENT
Peng Shepherd: The Cartographers
7PM SATURDAY, MARCH 19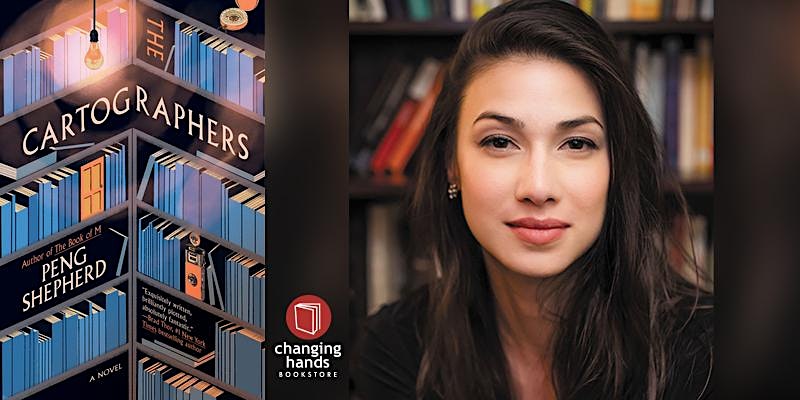 LOCATION | IN-PERSON: PHOENIX
Tickets required. Admission is a copy of The Cartographers purchased from Changing Hands Bookstore via Eventbrite here or below.
A limited number of free tickets are available.
Critically acclaimed author Peng Shepherd (The Book of M) discusses her latest with ASU Professor Matt Bell.

ABOUT THE BOOK
From the critically acclaimed author of The Book of M, a highly imaginative thriller about a young woman who discovers that a strange map in her deceased father's belongings holds an incredible, deadly secret—one that will lead her on an extraordinary adventure and to the truth about her family's dark history.

What is the purpose of a map?
Nell Young's whole life and greatest passion is cartography. Her father, Dr. Daniel Young, is a legend in the field, and Nell's personal hero. But she hasn't seen or spoken to him ever since he cruelly fired her and destroyed her reputation after an argument over an old, cheap gas station highway map.
But when Dr. Young is found dead in his office at the New York Public Library, with the very same seemingly worthless map hidden in his desk, Nell can't resist investigating. To her surprise, she soon discovers that the map is incredibly valuable, and also exceedingly rare. In fact, she may now have the only copy left in existence… because a mysterious collector has been hunting down and destroying every last one—along with anyone who gets in the way.
But why?
To answer that question, Nell embarks on a dangerous journey to reveal a dark family secret, and discover the true power that lies in maps...
Perfect for fans of Joe Hill and V.E. Schwab, The Cartographers is an ode to art and science, history and magic—a spectacularly imaginative, modern story about an ancient craft and places still undiscovered.

ABOUT THE AUTHOR
Peng Shepherd was born and raised in Phoenix, Arizona, where she rode horses and trained in classical ballet, and has lived in Beijing, Kuala Lumpur, London, Los Angeles, Washington, D.C., Philadelphia, New York, and Las Vegas.
Her first novel, The Book of M, won the 2019 Neukom Institute for Literary Arts Award for Debut Speculative Fiction, and was chosen as a best book of the year by Amazon, Elle, Refinery29, and The Verge, as well as a best book of the summer by the Today Show and NPR On Point. A graduate of the NYU MFA program, Peng is the recipient of a 2020 fellowship from the National Endowment for the Arts, as well as the Elizabeth George Foundation's emerging writers 2016 grant.

ABOUT THE MODERATOR
Matt Bell is also the author of the novels Scrapper and In the House upon the Dirt between the Lake and the Woods, as well as the short story collection A Tree or a Person or a Wall, a non-fiction book about the classic video game Baldur's Gate II, and several other titles. His writing has appeared in The New York Times, Tin House, Conjunctions, Fairy Tale Review, American Short Fiction, and many other publications. A native of Michigan, he teaches creative writing at Arizona State University.