ONLINE ORDERING HAS BEEN TURNED OFF FOR THIS EVENT
Get your book and ticket in-store before the event, or by phone at 480.730.0205.
Amy Goodman with Denis Moynihan
Democracy Now!: Twenty Years Covering the Movements Changing America
10:30AM SATURDAY, MAY 20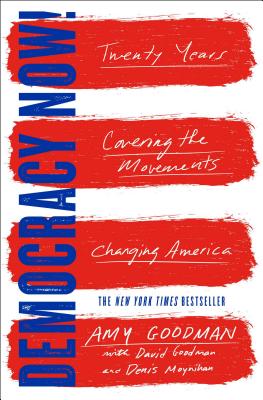 Host and executive producer of the independent news program Democracy Now!, Amy Goodman visits with the paperback release of her bestselling book.
GET YOUR BOOK AND TICKET
Click "add to cart" at the bottom of the page. We'll send you an email confirmation, plus a second email with more details (usually within 24 hours).
EVENT GUIDELINES
Seating is determined by letter group (indicated on tickets) and opens at 10am.
→ $16.00 + tax: One (1) copy of Democracy Now! and admission for two (2) people
Signing line forms after the event by letter group printed on tickets.
Event guidelines may be subject to changes.
CAN'T MAKE IT?
Click "add to cart" below on the signed copy of
Democracy Now!
and we'll have it signed and reserved for you. We also ship anywhere in the US and to most international locations!
ABOUT THE BOOK
A celebration of the revolutionary change Amy and David Goodman have witnessed during the two decades of their acclaimed television and radio news program
Democracy Now!
—and how small individual acts from progressive heroes have produced lasting results.
In 1996 Amy Goodman began hosting a show called
Democracy Now!
to focus on the issues and movements that are too often ignored by the corporate media. Today it is the largest public media collaboration in the US. This important book looks back over the past twenty years of
Democracy Now!
and the powerful movements and charismatic leaders who are re-shaping our world. Goodman takes us along as she goes to where the silence is, bringing out voices from the streets of Ferguson to Staten Island, Wall Street, and South Carolina to East Timor—and other places where people are rising up to demand justice.
Giving voice to those who have been forgotten, forsaken, and beaten down by the powerful,
Democracy Now!
pays tribute to those progressive heroes—the whistleblowers, the organizers, the protestors—who have brought about remarkable, often invisible change over the last couple of decades in seismic ways. This is "an impassioned book aiming to fuel informed participation, outrage, and dissent." (Kirkus Reviews)
She will be joined at the book signing by her co-author,
Democracy Now!
's Denis Moynihan.
ABOUT THE AUTHOR
Amy Goodman is the host and executive producer of
Democracy Now!
An acclaimed international journalist, she has won the Right Livelihood Award, widely known as the Alternative Nobel Prize; a lifetime achievement award from Harvard's Nieman Foundation for Journalism; the George Polk Award; Robert F. Kennedy Prize for International Reporting; and the Alfred I. duPont-Columbia Award. Amy is the
New York Times
bestselling author, with Denis Moynihan, of
The Silenced Majority
and
Breaking the Sound Barrier
; and with David Goodman, of
Democracy Now!
,
Exception to the Rulers
,
Static
, and
Standing Up to the Madness
. She is a syndicated columnist for King Features.