ONLINE ORDERING HAS BEEN TURNED OFF FOR THIS EVENT
Get your book and ticket in-store before the event, or by phone at 480.730.0205.
Judith Orloff, MD
The Empath's Survival Guide: Life Strategies for Sensitive People
7PM SATURDAY, MAY 6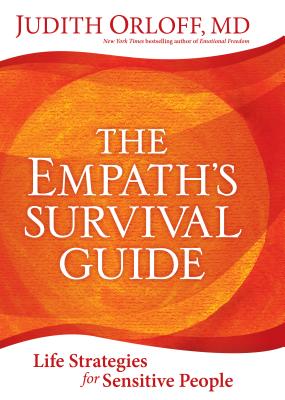 The New York Times bestselling author shares her guide for empaths and anyone who wants to nurture their empathy and develop coping skills in this high-stimulus world, while fully embracing their gifts of intuition, compassion, creativity, and spiritual connection.
GET YOUR BOOK AND TICKET
Click "add to cart" at the bottom of the page. We'll send you an email confirmation, plus a second email with more details (usually within 24 hours).
EVENT GUIDELINES
Seating is determined by letter group (indicated on tickets) and opens at 6:30pm.
→ $22.95 + tax: One (1) copy of The Empath's Survival Guide and admission for two (2) people
Signing line forms after the event by letter group printed on tickets.
Event guidelines may be subject to changes.
CAN'T MAKE IT?
Click "add to cart" below on the signed copy of
The Empath's Survival Guide
and we'll have it signed and reserved for you. We also ship anywhere in the US and to most international locations!
ABOUT THE BOOK
Research shows that 1 out of 5 people are highly sensitive. But what is the difference between having empathy and being an empath or highly sensitive? "Empathy means our heart goes out to another person in joy or pain," says Dr. Judith Orloff. "But empaths actually feel others' emotions and physical symptoms in their own bodies, without the usual defenses most people have."
In this event, Judith Orloff, MD will discuss her new book,
The Empath's Survival Guide: Life Strategies for Sensitive People
, which offers invaluable resources to help empaths and everyone who wants to develop their sensitivities to become more caring people in an often insensitive world. Dr. Orloff will explain how empaths and sensitive people can prevent exhaustion, overwhelm in relationships and the world and compassion fatigue—and how to embrace the empath's gifts of intuition, creativity, and spiritual connection.
For any sensitive person who's been told to "grow a thick skin," here is a guide for staying fully open while building resilience and feeling welcome and valued by a world that desperately needs what you have to offer.
ABOUT THE AUTHOR
JUDITH ORLOFF, MD is a
New York Times
bestselling author who specializes in treating empaths and sensitive people in her private practice in Los Angeles, California. As an empath herself, she synthesizes conventional medical wisdom with cutting edge knowledge of intuition, spirituality, and energy medicine. Her books include
Emotional Freedom
,
Positive Energy
, and
Guide to Intuitive Healing
. To learn more about empaths and Dr. Orloff's Empath Support Newsletter and Community, visit
DrJudithOrloff.com
.