Caitlin Major and Kelly Bastow: Manfried the Man
7PM MONDAY, MAY 14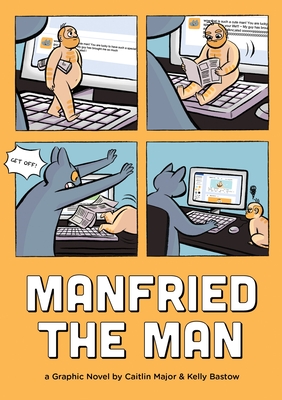 Author and illustrator team Caitlin Major and Kelly Bastow present their new graphic novel.
In the world of
Manfried the Man
, the roles of cats and humans are reversed: humanoid cats are in charge, while tiny, dim-witted, lovable little people are kept as pets. Manfried, a stray man taken in by slacker Steve Catson, becomes the Garfield to his John Arbuckle: lazy, selfish, and sometimes maddening in his weird human behavior. But ultimately the pair depend on each other to get through life's troubles. In this book-length story, Steve finds himself stuck with a dead-end job and nonexistent love-life, while all his friends are moving on, getting better jobs, getting married and having kittens. When Manfried runs away from home, Steve suddenly loses the one constant in his life, and has to muster all his meager resources to find his best friend and bring him home safe.
ABOUT THE AUTHOR
CAITLIN MAJOR is a Toronto-based comics writer and illustrator. She and her partner, Matthew Hoddy, have run successful Kickstarter campaigns to print comics
Space Pyrates
and
The Saga of Metalbeard
. Caitlin also works as an animation compositor at Skyship Entertainment, a small animation studio in Toronto that specializes in kids' programming on YouTube.
KELLY BASTOW is an illustrator and comics creator best known for her ink and watercolor paintings of landscapes and body positivity. Kelly illustrated
Quirk's The Fangirl's Guide to the Galaxy
and has drawn for the comics
Lumberjanes
,
Adventure Time
, and
Capture Creatures
.

$14.99
ISBN: 9781683690153
Availability: On Our Shelves Now
Published: Quirk Books - May 1st, 2018
---