ONLINE ORDERING HAS BEEN TURNED OFF FOR THIS EVENT
Get your book and ticket in-store before the event, or by phone at 602.274.0067.
Cecile Richards
Make Trouble
12:30PM THURSDAY, MAY 3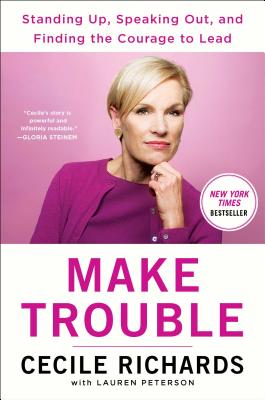 Just added! Cecile Richards—president of Planned Parenthood Federation of America for more than a decade, daughter of the late Governor Ann Richards, featured speaker at the Women's March on Washington, and a "heroine of the resistance" (Vogue)—visits Changing Hands Phoenix with her instant New York Times bestseller Make Trouble, a story about learning to lead and make change, based on a lifetime of fighting for women's rights and social justice.
GET YOUR BOOK AND TICKET
Click "add to cart" at the bottom of the page. We'll send you an email confirmation, plus a second email with more details (usually within 24 hours).
EVENT GUIDELINES
Seating is determined by letter group (indicated on tickets) and opens at 12pm.
→ $27.00 + tax: One (1) copy of Make Trouble and admission for one (1) person
→ Add On Ticket ($4): Admission for one (1) person. This can only be purchased in combination with the book and ticket package (see above). Limit one extra seat per package.
Signing line forms after the event by letter group printed on tickets.
Event guidelines may be subject to changes.
Refunds will not be issued within three days of the event.
PARKING / LIGHT RAIL
Don't want to drive? Take the Light Rail! It lets off at the Central Avenue/Camelback Park-and-Ride, which has hundreds of free parking spaces across the street from Changing Hands.
CAN'T MAKE IT?
Click "add to cart" below on the signed copy of
Make Trouble
and we'll have it signed and reserved for you. We also ship anywhere in the US and to most international locations!
ABOUT THE BOOK
Cecile Richards has been an activist since she was taken to the principal's office in seventh grade for wearing an armband in protest of the Vietnam War. She had an extraordinary childhood in ultra-conservative Texas, where her civil rights attorney father and activist mother taught their kids to be troublemakers. In the Richards' household, "the dinner table was never for eating—it was for sorting precinct lists."
From the time Richards was a girl, she had a front-row seat to observe the rise of women in American politics. She watched her mother, Ann, transform from a housewife to an electrifying force in the Democratic party who made a name for herself as the straight-talking, truth-telling governor of Texas. But Richards also witnessed the pitfalls of public life that are unique to women. Her experiences paint a powerful portrait of the misogyny, sexism, fake news, and even the threat of violence confronting those who challenge authority.
As a young woman, Richards worked as a labor organizer alongside women earning minimum wage and learned that those in power don't give it up without a fight. Now, after years of advocacy, resistance, and progressive leadership, she shares her story for the first time—from the joy and heartbreak of activism to the challenges of raising kids, having a life, and making change, all at the same time.
She shines a light on the people and lessons that have gotten her through good times and bad, and encourages readers to take risks, make mistakes, and make trouble along the way. Richards has dedicated her life to taking on injustice, and her memoir will inspire readers to hope and action.
ABOUT THE AUTHOR
CECILE RICHARDS is a nationally respected leader in the field of women's health, reproductive rights, and social change. She began her career helping garment workers, hotel workers, and nursing home aides fight for better wages and working conditions. After years in the labor movement, she moved back home to Texas to help elect the state's first Democratic woman governor: her mother, Ann Richards. She went on to start her own grassroots organizations, and later served as Deputy Chief of Staff to House Democratic Leader Nancy Pelosi. In 2011 and 2012, she was named one of
TIME Magazine
's 100 Most Influential People in the World. Richards is currently the president of Planned Parenthood Federation of America and the Planned Parenthood Action Fund, and is a frequent speaker and commentator on issues related to women's rights and activism. Richards serves on the board of the Ford Foundation. She and her husband, Kirk Adams, have three children and reside in New York City.