MEET AND GREET BOOKSIGNING Elgin Baylor
Hang Time: My Life in Basketball
3:30PM FRIDAY, MAY 11
ONLINE ORDERING HAS BEEN TURNED OFF FOR THIS EVENT
Get your book and ticket in-store before the event, or by phone at 602.274.0067.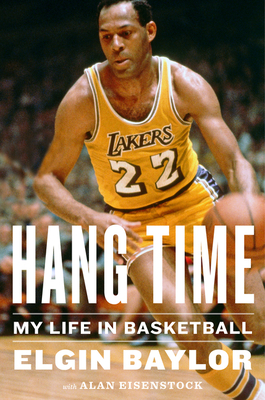 Eleven-time NBA All-Star and Los Angeles Lakers player Elgin Baylor signs copies of his memoir covering an epic all-star career in the NBA—during which he transformed basketball from a horizontal game to a vertical one—and his fights against racism during his career as a player and as general manager of the LA Clippers under the infamous Donald Sterling.
GET YOUR BOOK
Click "add to cart" at the bottom of the page. We'll send you an email confirmation, plus a second email with more details (usually within 24 hours).
EVENT GUIDELINES
No personalization.
No memorabilia will be signed.
Event guidelines may be subject to changes.
FREE PARKING / LIGHT RAIL
Don't want to drive? Take the Light Rail! It lets off at the Central Avenue/Camelback Park-and-Ride, which has hundreds of free parking spaces across the street from Changing Hands.

CAN'T MAKE IT? Click "add to cart" below on the signed copy of Hang Time: My Life in Basketball and we'll have it signed and reserved for you. We also ship anywhere in the US and to most international locations!


ABOUT THE BOOK
People think of Elgin Baylor as one of the greatest basketball players in the history of the game--and one of the NBA's first black superstars--but the full extent of his legacy stretches beyond his spectacular, game-changing shots and dunks. With startling symmetry, Baylor recounts his story: flying back and forth between the U.S. Army and the Lakers, his time as a central figure in the great Celtics-Lakers rivalry and how he helped break down color barriers in the sport, his 1964 All-Star game boycott, his early years as an executive for the New Orleans Jazz, and twenty-two years as general manager for the notorious L.A. Clippers and Donald Sterling, spent fighting to draft and sign young, black phenoms--only to be hamstrung by his boss at every turn.
No one has seen the league change, and has worked to bring change, more than Baylor. Year after year, he continued to fight and persevere against racism. At the beginning of his career, he was forced to stay in separate hotel rooms. From those days to today's superstardom, he has had a front-row view of the game's elevation to one of America's favorite sports. For the first time, Elgin Baylor tells his full story. He's played with the legends, lived with them, and knows more about the NBA than anyone living, and is finally ready to set the record straight.