TEEN EVENT
Teen Advisory Board (T.A.B.): Cadaver & Queen by Alisa Kwitney and The Astonishing Color of After by Emily X. R. Pan
3PM SATURDAY, MAY 12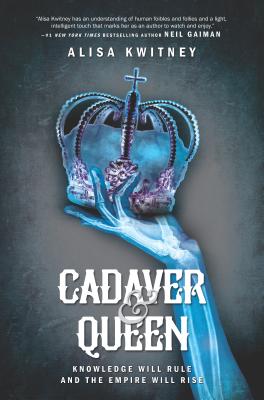 Teens meet to discuss Alisa Kwitney's Cadaver & Queen and Emily X. R. Pan's The Astonishing Color of After.
About Cadaver & Queen
When Elizabeth Lavenza enrolled at Ingold as its first female medical student, she knew she wouldn't have an easy time. From class demands to being an outsider among her male cohorts, she'll have to go above and beyond to prove herself. So when she stumbles across what appears to be a faulty Bio-Mechanical—one of the mechanized cadavers created to service the school—she jumps at the chance to fix it and get ahead in the program. Only this Bio-Mechanical isn't like the others. This one seems to have thoughts, feelings ... and self-awareness. Soon Elizabeth realizes that it is Victor Frankenstein, a former student who died under mysterious circumstances. Suddenly Elizabeth finds herself entwined in his dark secrets—ones he might have been murdered to keep buried.
About The Astonishing Color of After
Leigh Chen Sanders is absolutely certain about one thing: When her mother died by suicide, she turned into a bird. Leigh, who is half Asian and half white, travels to Taiwan to meet her maternal grandparents for the first time. There, she is determined to find her mother, the bird. In her search, she winds up chasing after ghosts, uncovering family secrets, and forging a new relationship with her grandparents. And as she grieves, she must try to reconcile the fact that on the same day she kissed her best friend and longtime secret crush, Axel, her mother was taking her own life. Alternating between real and magic, past and present, friendship and romance, hope and despair,
The Astonishing Color of After
is a novel about finding oneself through family history, art, grief, and love.

$18.99
ISBN: 9781335470461
Availability: On Our Shelves Now
Published: Harlequin Teen - February 27th, 2018
---

$18.99
ISBN: 9780316463997
Availability: On Our Shelves Now
Published: Little, Brown Books for Young Readers - March 20th, 2018
---