CHANGING HANDS BOOK CLUB
Found in Translation: Bright by Duanwad Pimwana
7PM WEDNESDAY, MAY 8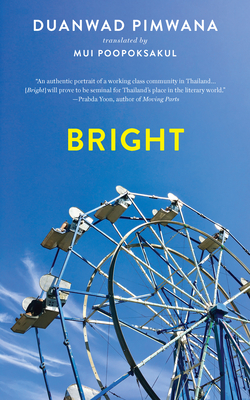 This month we'll discuss Bright by Duanwad Pimwana.
Whether you're a seasoned traveler, a voracious reader, or a dreamer who wants to see the world, all are invited to our newest book club focused on international literature. Sometimes visiting other countries doesn't always give travelers an insider's view into foreign cultures; sometimes we are still too outside, too different, to get at the heart of a place. Often the best way to understand distant lands and peoples is to read their literature, to get inside the head of a foreign author, to hear their myths and fairy tales molded around words they penned in their mother tongue.
In Found in Translation, we will delve into a work of international literature in a small group setting while enjoying coffee, beer, or wine drinks from First Draft Book Bar, located in Changing Hands Phoenix.
Stop by Changing Hands Phoenix or Tempe (or order online by clicking "add to cart" below) to get your copy of
Bright
for
10% OFF
.
Then meet us at First Draft Book Bar to discuss the pick and enjoy
HAPPY HOUR
prices all through the event.
FREE PARKING / LIGHT RAIL
Don't want to drive? Take the Light Rail! It lets off at the Central Avenue/Camelback Park-and-Ride, which has hundreds of free parking spaces across the street from Changing Hands.
ABOUT THE BOOK
Honorable mention in the Global Humanities Translation Prize
When five-year-old Kampol is told by his father to wait for him in front of some run-down apartment buildings, the confused boy does as told--he waits, and waits, and waits, until he realizes his father isn't coming back anytime soon. Adopted by the community, Kampol is soon being raised by figures like Chong the shopkeeper, who rents out calls on his telephone and goes into debt while extending his customers endless credit. Kampol also plays with local kids like Noi, whose shirt is so worn that it rips right in half, and the sweet, deceptively cute toddler Penporn. Dueling flea markets, a search for a ten-baht coin lost in the sands of a beach, pet crickets that get eaten for dinner, bouncy ball fads in school, and loneliness so merciless that it kills a boy's appetite all combine into Bright, the first-ever novel by a Thai woman to appear in English translation. Duanwad Pimwana's urban, and at times gritty, vignettes are balanced with a folk-tale-like feel and a charmingly wry sense of humor. Together, these intensely concentrated, minimalist gems combine into an off-beat, highly satisfying coming-of-age story of a very memorable young boy and the age-old legends, practices, and personalities that raise him.

$15.26
ISBN: 9781931883801
Availability: On Our Shelves Now
Published: Two Lines Press - April 9th, 2019
---