Lysa Allman-Baldwin: I Cried. And People Loved Me Anyway
7PM MONDAY, MAY 20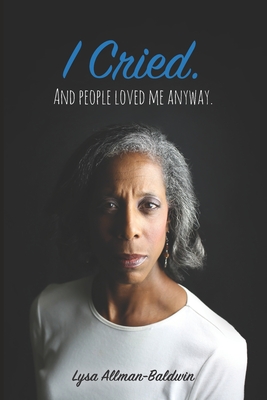 Motivational speaker and freelance writer Lysa Allman-Baldwin shares her debut book.
Lysa Allman-Baldwin's almost 25 years of freelance and travel writing have led her on many amazing journeys. A few years ago, her travels crossed paths with a very personal, inner journey resulting in her new book,
I Cried. And People Loved Me Anyway
. In it, Allman-Baldwin teaches us how to overcome emotional trauma by living with passion, authenticity and purpose.
In her debut book,
I Cried. And People Loved Me Anyway
, motivational speaker and freelance writer Lysa Allman-Baldwin – a confident, outgoing, African-American woman who no one would have ever suspected was anything but content – describes how she almost checked out for good after a series of setbacks over a short period of time. After unearthing the subconscious facades she had built up since childhood, however, she discovered her life still had value and meaning despite any outer circumstances.
I Cried. And People Loved Me Anyway
is a must-read for anyone grappling with everyday struggles that become overwhelming. Allman-Baldwin's inner journey resonates with readers who have considered giving up during tough times, and her path through despair inspires hope. In the book, Allman-Baldwin stresses the importance of seeking help, self-forgiveness, spirituality – however one defines that – and unconditional love when trying to overcome emotional trauma. She teaches us how to live with passion, authenticity and purpose by treating every day as a gift.
Specifically, she discusses:
• How to tap into your inner child to unravel the old "tapes" that no longer serve you
• The power of forgiveness and unconditional love – for yourself and others
• Why every breakdown can be a breakthrough
• The importance of creating and maintaining community
• Finding your voice and inner strength through vulnerability
• The clarity, lessons and blessings found through adversity
PARKING / LIGHT RAIL
Don't want to drive? Take the Light Rail! It lets off at the Central Avenue/Camelback Park-and-Ride, which has hundreds of free parking spaces across the street from Changing Hands.
ABOUT THE AUTHOR
For 25 years, freelance writer Lysa Allman-Baldwin has fed her wanderlust by passionately writing feature articles and reviews on a variety of topics including travel and tourism, cuisine and restaurants, business, noteworthy personalities, real estate, neighborhoods, community organizations, consumer issues, news topics, events and festivals. Her travel website, Amazing Escapades: Adventures for the Mind, Bod and Belly (AmazingEscapades.com), provides today's savvy travelers with ideas for fresh, inspiring and creative adventures. Lysa is an engaging, personable, sought-after motivational speaker, writer and workshop facilitator. Through the written and spoken word, she helps people create lives full of passion, authenticity and purpose. Her new website, AuthenticityAndPurpose.com, is coming soon!

$18.95
ISBN: 9781719241755
Availability: On Our Shelves Now
Published: Createspace Independent Publishing Platform - July 16th, 2018
---