MEET AND GREET BOOKSIGNING
E.L. James
The Mister
6:30PM AND 7:30PM MONDAY, MAY 6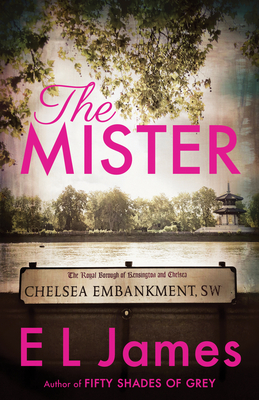 Join us at Changing Hands Tempe for a meet-and-greet booksigning event with E.L. James to celebrate The Mister, the new novel by the international bestselling author of Fifty Shades of Grey.
GET YOUR BOOK AND TICKET
Order your ticket package at the bottom of the page. We'll send you an email confirmation.
TICKETS
→ Cost: $18.32 + fees: Your ticket includes one (1) signed copy of The Mister and admission to the signing line for you and one (1) guest.
Signing Line entry times: 6:30 and 7:30pm.
Purchase below (at the bottom of the page).
DETAILS
This is a meet-and-greet booksigning event.
Ticket includes one (1) copy of The Mister.
Each fan in line must purchase a ticket or be the guest of a ticket-holder. (Limit one guest per ticket-holder.)
Ticket-holders may bring just one (1) additional E.L. James book to be signed.
Copies of The Mister purchased at other vendors are not permitted. Additional E.L. James books will be available at Changing Hands Bookstore.
Event guidelines may be subject to changes.
LINE ENTRY TIMES (6:30 & 7:30 PM)
Books will be distributed at will-call starting at 6pm.
Your signing line admission time will be printed on your ticket.
Admission times are staggered in two blocks: 6:30 and 7:30pm. Within those blocks, admission is first come, first served.
The 6:30 signing line will begin forming at 6pm.
The 7:30 signing line will begin forming at 7:30pm.
SIGNING DETAILS
E.L. James will sign TWO books per ticket-holder (one The Mister and one other title if requested).
She will personalize ONE book per ticket-holder, first name only.
She will sign BOOKS ONLY, no memorabilia or box sets.
She cannot take posed pictures with fans.
Quick "walk-by" photos can be taken of readers getting their books signed. Please note: Due to time constraints, candid photos may not be re-taken after the first pass, as it holds up the signing line.
WHAT NOT TO EXPECT
A seated presentation or book talk.
A signature on any memorabilia.
A posed photo with E.L. James.
Autographed copies of The Mister purchased somewhere other than Changing Hands.

See you there!

PLEASE NOTE: This booksigning event follows the author's and publisher's wishes, which may mean limits on photos and the number of signed or personalized books. Changing Hands Bookstore is not responsible for guideline changes made by the publisher or author prior to or during the event. Thanks for understanding!

Tickets are non-refundable. If you miss the event, in order to receive your book you will need to contact us within 30 days of event day.
CAN'T MAKE IT?
Call 480.730.0205 to order a signed copy of
The Mister
and we'll have it signed and reserved for you. We also ship anywhere in the US and to most international locations!
ABOUT THE BOOK
London, 2019. Life has been easy for Maxim Trevelyan. With his good looks, aristocratic connections, and money, he's never had to work and he's rarely slept alone. But all that changes when tragedy strikes and Maxim inherits his family's noble title, wealth, and estates, and all the responsibility that entails. It's a role he's not prepared for and one that he struggles to face.
But his biggest challenge is fighting his desire for an unexpected, enigmatic young woman who's recently arrived in England, possessing little more than a dangerous and troublesome past. Reticent, beautiful, and musically gifted, she's an alluring mystery, and Maxim's longing for her deepens into a passion that he's never experienced and dares not name. Just who is Alessia Demachi? Can Maxim protect her from the malevolence that threatens her? And what will she do when she learns that he's been hiding secrets of his own?
From the heart of London through wild, rural Cornwall to the bleak, forbidding beauty of the Balkans,
The Mister
is a roller-coaster ride of danger and desire that leaves the reader breathless to the very last page.
ABOUT THE AUTHOR
E.L. JAMES is an incurable romantic and a self-confessed fangirl. After twenty-five years of working in television, she decided to pursue a childhood dream and write stories that readers could take to their hearts. The result was the controversial and sensuous romance
Fifty Shades of Grey
and its two sequels,
Fifty Shades Darker
and
Fifty Shades Freed
. In 2015, she published the #1 bestseller
Grey
, the story of
Fifty Shades of Grey
from the perspective of Christian Grey, and in 2017, the chart-topping
Darker
, the second part of the Fifty Shades story from Christian's point of view. Her books have been published in fifty languages and have sold more than 150 million copies worldwide.