HOSTED BY USA TODAY BOOKS REPORTER BARBARA VANDENBURGH
First Draft Book Club: Oona Out of Order by Margarita Montimore
7-8:30PM SATURDAY, MAY 23
LOCATION: ONLINE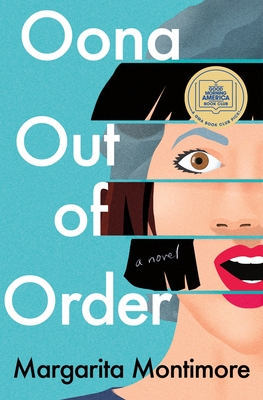 You can't come to us, so First Draft Book Bar is coming to you! Pour a drink, fire up the computer, and join USA Today Books Editor Barbara VanDenburgh for a Zoom discussion about May's club pick, Onna Out of Order.

It's free to attend, but you can also purchase June's pick Emma Straub's All Adults Here with your registration.
RSVP below or directly on Eventbrite.
Sign up for Barbara VanDenburgh's weekly "Feel Good 5" newsletter
here
, and join our First Draft Book Club Facebook group
here
.
ABOUT THE BOOK
A remarkably inventive novel that explores what it means to live a life fully in the moment, even if those moments are out of order.

It's New Year's Eve 1982, and Oona Lockhart has her whole life before her. At the stroke of midnight she will turn nineteen, and the year ahead promises to be one of consequence. Should she go to London to study economics, or remain at home in Brooklyn to pursue her passion for music and be with her boyfriend? As the countdown to the New Year begins, Oona faints and awakens thirty-two years in the future in her fifty-one-year-old body. Greeted by a friendly stranger in a beautiful house she's told is her own, Oona learns that with each passing year she will leap to another age at random. And so begins Oona Out of Order...

Hopping through decades, pop culture fads, and much-needed stock tips, Oona is still a young woman on the inside but ever changing on the outside. Who will she be next year? Philanthropist? Club Kid? World traveler? Wife to a man she's never met? Surprising, magical, and heart-wrenching, Margarita Montimore has crafted an unforgettable story about the burdens of time, the endurance of love, and the power of family.
WHAT IS FIRST DRAFT BOOK CLUB?
First Draft Book Club is the official book club of
First Draft Book Bar
– the coffee, beer, and wine bar inside Changing Hands Phoenix. Every month,
USA Today
Books Reporter Barbara VanDenburgh picks a hot new book and hosts a guided book club discussion.
Co-sponsored by: