VIRTUAL EVENT
Marlo Thomas and Phil Donahue: What Makes a Marriage Last
4pm WEDNESDAY, MAY 20
LOCATION: LIVE ON ZOOM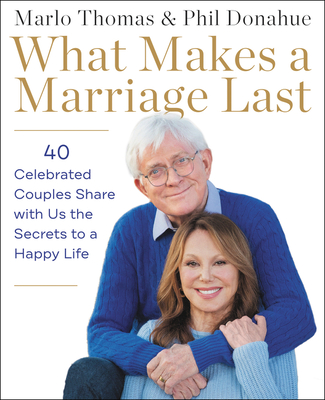 To attend this online event, you must purchase a copy of What Makes a Marriage Last from Changing Hands Bookstore via Eventbrite. You'll receive the Zoom link by email within 24 hours of the event's start time.*
Join power couple Marlo Thomas and Phil Donahue as they explore the question: What makes a marriage last?
To unlock the mystery, Marlo and Phil crisscrossed the country and conducted intimate conversations with forty celebrated couples whose long marriages they've admired—from award-winning actors, athletes, and newsmakers to writers, comedians, musicians, and a former U.S. president and First Lady. These conversations span the marital landscape, from the first rush of new love to keeping that precious spark alive, from navigating hard times to celebrating triumphs, from balancing work and play and family to growing better and stronger together. Along the way, Marlo and Phil also revealed the rich journey of their own marriage.
Moderating this conversation is Amy Silverman, an Arizona-based journalist working this year with ProPublica and The Arizona Daily Star. She's the author of My Heart Can't Even Believe It: A Story of Science, Love, And Down Syndrome.
*Our Zoom events are password-protected with wait rooms enabled. The password is entered automatically by clicking the event link when logged in to a Zoom account. We'll admit guests shortly before 4pm and throughout the event. If you join late, please be patient—we'll admit you when we see you.

ABOUT THE AUTHORS

Marlo Thomas is an award-winning actress, author, and activist whose body of work continues to impact American entertainment and culture. She has been honored with four Emmy Awards, the George Foster Peabody Award, a Golden Globe, a Grammy, and has been inducted into the Broadcasting Hall of Fame. In November 2014, President Barack Obama awarded Marlo the Presidential Medal of Freedom, the highest honor a civilian can receive.
Phil Donahue is a writer, producer, journalist, and media pioneer who revolutionized the talk show format and ushered in a new era of broadcast television. The Donahue show was honored with twenty Daytime Emmy Awards, including ten Emmys for Outstanding Host, and ten for Best Talk Show. In 1996, the Daytime Emmys presented Phil with a Lifetime Achievement Award for his contributions to television journalism. Phil has been inducted into the Academy of Television Arts & Sciences Hall of Fame and is a recipient of the George Foster Peabody Award. He lives in New York City.