ONLINE ORDERING HAS BEEN TURNED OFF FOR THIS EVENT
Get your book and ticket in-store before the event, or by phone at 480.730.0205.
CO-PRESENTED BY ASU'S SCHOOL OF SUSTAINABILITY
Carey Gillam: Whitewash: The Story of a Weed Killer, Cancer, and the Corruption of Science
6:30PM WEDNESDAY, NOVEMBER 1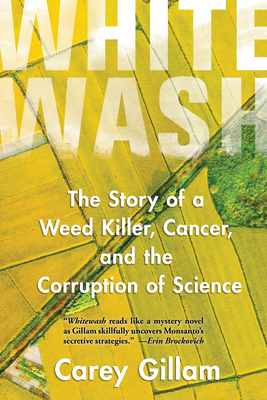 CO-PRESENTED BY
Veteran journalist and researcher Carey Gillam shares the eerily familiar story of the pesticide glyphosate, and how the powerful influence of a multi-billion-dollar industry can keep consumers in the dark.
Fifty-five years after Rachel Carson and
Silent Spring
awakened the world to the dangers of DDT and unchecked pesticide use, veteran journalist Carey Gillam shares a new story that illustrates how deeply we have failed to heed her warning. In
Whitewash
, Gillam lays bare disturbing details about the 40-year push to prominence of the world's most popular pesticide: glyphosate, known commonly as Monsanto's Roundup. With Whitewash, the capstone of 20 years of meticulous reporting, Gillam shares an eerily familiar story of how the powerful influence of a multi-billion-dollar industry that works to keep consumers in the dark and regulators in check is possible. Gillam unveils secret industry communications and regulatory documents that reveal corporate ties with an extensive cast of players and efforts to censor or discredit scientists whose research contradicts business interests. It is not a feel-good story. But it's one that needs to be heard.
ABOUT THE AUTHOR
CAREY GILLAM is a veteran journalist, researcher, and writer with more than twenty-five years' experience in the news industry covering corporate America. Since 1998, Gillam's work has focused on digging into the big business of food and agriculture. As a former senior correspondent for
Reuters'
international news service, and a current contract researcher and freelance writer, Gillam specializes in finding the story behind the spin--uncovering both the risks and rewards of the evolving new age of agriculture. Gillam's areas of experience include biotech crop technology, agrichemicals and pesticide product development, and the environmental impacts of American food production. Gillam has been recognized as one of the top journalists in the country covering these issues.