CHANGING HANDS BOOK CLUB
Found in Translation: The Fox Was Ever the Hunter by Herta Müller
7PM TUESDAY, NOVEMBER 21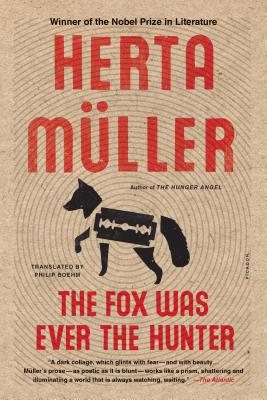 Join us as we discuss this month's pick, Nobel Prize winner Herta Müller's The Fox Was Ever the Hunter, a haunting early novel of surveillance and paranoia.
Whether you're a seasoned traveler, a voracious reader, or a dreamer who wants to see the world, all are invited to our newest book club focused on international literature. Sometimes visiting other countries doesn't always give travelers an insider's view into foreign cultures; sometimes we are still too outside, too different, to get at the heart of a place. Often the best way to understand distant lands and peoples is to read their literature, to get inside the head of a foreign author, to hear their myths and fairy tales molded around words they penned in their mother tongue.
In Found in Translation we will delve into a work of international literature in a small group setting while enjoying coffee, beer, or wine drinks from First Draft Book Bar, located in Changing Hands Phoenix.
This is a free book club and the only requirement is that attendees read the book before the meeting, otherwise the end of a great work of international fiction may be ruined for them!
Stop by Changing Hands Phoenix or Tempe (or order online by clicking "add to cart" below) to get your copy of
The Fox Was Ever the Hunter
for 10% OFF.

Then meet us at First Draft Book Bar to discuss the pick and enjoy HAPPY HOUR prices all through the event.
FREE PARKING / LIGHT RAIL
There is plenty of free public parking west of Changing Hands Phoenix, at 400 and 444 West Camelback. Additional free public parking across Camelback to the south.
Don't want to drive? Take the Light Rail! It lets off at the Central Avenue/Camelback Park-and-Ride, which has hundreds of free parking spaces across the street from Changing Hands.
ABOUT THE BOOK
Romania―the last months of the Ceausescu regime. Adina is a young schoolteacher. Paul is a musician. Clara works in a wire factory. Pavel is Clara's lover. But one of them works for the secret police and is reporting on the rest of the group.
One day Adina returns home to discover that her fox fur rug has had its tail cut off. On another occasion it's the hindleg. Then a foreleg. The mutilated fur is a sign that she is being tracked by the secret police―the fox was ever the hunter. Images of photographic precision combine into a kaleidoscope of terror as Adina and her friends struggle to keep mind and body intact in a world pervaded by complicity and permeated with fear, where it's hard to tell victim from perpetrator. And once again, Herta Müller uses language that displays the "concentration of poetry and the frankness of prose"―as the Swedish Academy noted upon awarding her the Nobel Prize―to create a hauntingly cinematic portrayal of the corruption of the soul under totalitarianism.

$14.40
ISBN: 9781250094612
Availability: On Our Shelves Now
Published: Picador - May 2nd, 2017
---