ONLINE ORDERING HAS BEEN TURNED OFF FOR THIS EVENT
This event is SOLD OUT.
Jackson Galaxy
Total Cat Mojo: The Ultimate Guide to Life with Your Cat
3:30PM SUNDAY, NOVEMBER 5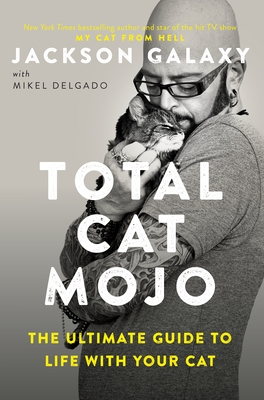 The star of the hit Animal Planet show My Cat from Hell shows readers how to eliminate feline behavioral problems by understanding cats' instinctive behavior
GET YOUR BOOK AND TICKET
Click "add to cart" at the bottom of the page. We'll send you an email confirmation, plus a second email with more details (usually within 24 hours).
EVENT GUIDELINES
Seating is general admission and opens at 2:30pm.
→ $17.00 + tax: One (1) copy of Total Cat Mojo and admission for two (2) people
Signing line forms after the event by letter group printed on tickets.
Pick up your book at either Changing Hands location starting October 31, 2017 OR at will-call outside the Dobson High School Auditorium on event day from 2:30-3:30pm.
Visit the Facebook event page here.
Event guidelines may be subject to changes.
CAN'T MAKE IT?
Click "add to cart" below on the signed copy of
Total Cat Mojo
and we'll have it signed and reserved for you. We also ship anywhere in the US and to most international locations!
ABOUT THE BOOK
Cat Mojo
is the confidence that cats exhibit when they are at ease in their environment and in touch with their natural instincts--to hunt, catch, kill, eat, groom, and sleep. Problems such as litter box avoidance and aggression arise when cats lack this confidence. Jackson Galaxy's number one piece of advice to his clients is to help their cats harness their mojo.
This book is his most comprehensive guide yet to cat behavior and basic cat care, rooted in understanding cats better. From getting kittens off to the right start socially, to taking care of cats in their senior years, and everything in between, this book addresses the head-to-toe physical and emotional needs of cats--whether related to grooming, nutrition, play, or stress-free trips to the vet.
ABOUT THE AUTHOR
JACKSON GALAXY is a cat behaviorist and the host of Animal Planet's hit show
My Cat from Hell
. He is the coauthor of the
New York Times
bestseller
Catification: Designing a Happy and Stylish Home for Your Cat (and You!)
. Jackson is also the author of
Cat Daddy: What the World's Most Incorrigible Cat Taught Me About Life, Love, and Coming Clean
. Mikel Maria Delgado is co-owner of Feline Minds, a San Francisco Bay area based cat behavior consulting business. She is currently working on her doctorate in psychology at the University of California at Berkeley, studying animal behavior and human-animal relationships.