ONLINE ORDERING HAS BEEN TURNED OFF FOR THIS EVENT
Get your book and ticket in store before the event, or by phone at 480.730.0205.
CO-PRESENTED BY PHOENIX COMICON
John Hodgman
Vacationland
7PM TUESDAY, NOVEMBER 7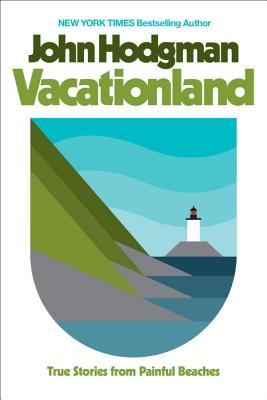 CO-PRESENTED BY PHOENIX COMICON
Bestselling author, comedian, and The Daily Show contributor shares his latest, a memoir of his travels in New England.

In conversation via Skype with George R.R. Martin, author of Game of Thrones.
GET YOUR BOOK AND TICKET
Click "add to cart" at the bottom of the page. We'll send you an email confirmation, plus a second email with more details (usually within 24 hours).
TICKET PACKAGES
Seating is general admission and opens at 6pm.
→ Package 1 ($32) One (1) hardcover copy of Vacationland and admission for one (1) person
→ Package 2 ($37) One (1) hardcover copy of Vacationland and admission for two (2) people
Ticket packages include sales tax.
EVENT GUIDELINES
WILL CALL opens at 6pm outside the auditorium. Please check in here to be admitted into the event.
SEATING is general admission and opens at 6pm.
PICK UP YOUR BOOK at the Mesa Arts Center on event day, outside the auditorium between 6 and 7pm OR in-store starting October 24, 2017.
SIGNING LINE forms after the event by letter group printed on tickets.
Event guidelines may be subject to changes.
Refunds will not be issued within three days of the event.
ABOUT THE BOOK
Disarmed of falsehood, he was left only with the awful truth: John Hodgman is an older white male monster with bad facial hair, wandering like a privileged Sasquatch through three wildernesses: the hills of Western Massachusetts where he spent much of his youth; the painful beaches of Maine that want to kill him (and some day will); and the metaphoric haunted forest of middle age that connects them.
Vacationland
collects these real life wanderings, and through them you learn of the horror of freshwater clams, the evolutionary purpose of the mustache, and which animals to keep as pets and which to kill with traps and poison. There is also some advice on how to react when the people of coastal Maine try to sacrifice you to their strange god.
Though wildly, Hodgmaniacally funny as usual, it is also a poignant and sincere account of one human facing his forties, those years when men in particular must stop pretending to be the children of bright potential they were and settle into the failing bodies of the wiser, weird dads that they are.
ABOUT THE AUTHOR
JOHN HODGMAN is a writer, comedian, and actor. He is the author of three
New York Times
bestselling books--
The Areas of My Expertise
,
More Information Than You Require
, and
That Is All
. After an appearance to promote his books on
The Daily Show
, he was invited to return as a contributor, serving as the show's "Resident Expert" and "Deranged Millionaire." This led to an unexpected and, frankly, implausible career in front of the camera. He has performed comedy for the president of the United States, at a TED conference, and in a crypt in Green-Wood Cemetery in Brooklyn, New York. He is the host of the popular Judge John Hodgman podcast, in which he settles serious disputes between real people, such as "Is a hot dog a sandwich?" He also contributes a weekly column under the same name for
The New York Times Magazine
.