Anne Montgomery: A Light in the Desert
7PM FRIDAY, NOVEMBER 30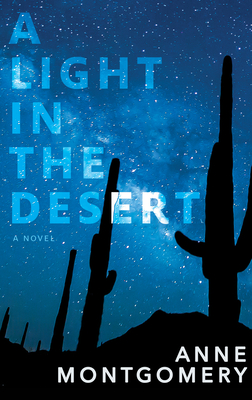 Arizona TV personality Mary Jo West and author Anne Montgomery discuss A Light in the Desert.
The novel traces the story of a lonely pregnant teenager, a former Special Forces sniper who – as he descends into the throes of a rare mental illness – latches onto the girl, and a group of Pentecostal zealots who have been waiting over thirty years in the wild Arizona desert for Armageddon.
When a passenger train is derailed in a deadly act of sabotage, their lives are thrown into turmoil. Local and state police, FBI investigators, and a horde of reporters make camp by the twisted wreckage of the Amtrak Sunset Limited. As the search for the saboteurs continues, the authorities find more questions than answers. The girl mysteriously vanishes, the assassin struggles to maintain his sanity, and a child is about to be born in the wilderness.
PARKING / LIGHT RAIL
Don't want to drive? Take the Light Rail! It lets off at the Central Avenue/Camelback Park-and-Ride, which has hundreds of free parking spaces across the street from Changing Hands.
ABOUT THE AUTHOR
ANNE MONTGOMERY has worked as a television sportscaster, newspaper and magazine writer, teacher, amateur baseball umpire, and high school football referee. Her first TV job came at WRBL-TV in Columbus, Georgia, and led to positions at WROC-TV in Rochester, New York, KTSP-TV in Phoenix, Arizona, and ESPN in Bristol, Connecticut, where she anchored the Emmy and ACE award-winning SportsCenter. She finished her on-camera broadcasting career with a two-year stint as the studio host for the NBA's Phoenix Suns. Montgomery was a freelance and/or staff reporter for six publications, writing sports, features, movie reviews, and archaeological pieces. Her novels include:
The Scent of Rain
and
A Light in the Desert
. Montgomery teaches journalism at South Mountain High School in Phoenix, is a foster mom to three sons, and is an Arizona Interscholastic Association football referee and crew chief. When she can, she indulges in her passions: rock collecting, football officiating, scuba diving, and playing her guitar.

$16.95

ISBN: 9781732139114
Availability: Not Available In-Store - Usually Ships from Warehouse in 1-5 Days
Published: Treehouse Publishing Group - November 6th, 2018
---