THIS EVENT HAS BEEN CANCELLED DUE TO TRAVEL DELAYS
Event may be rescheduled. Details to come.
Sign Up for our newsletter and be the first to know the rescheduled date!
Crusoe and Ryan Beauchesne: Crusoe the Worldly Wiener Dog
7PM THURSDAY, NOVEMBER 8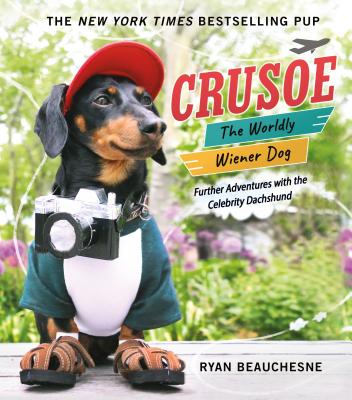 The New York Times bestselling, internet sensation Crusoe and the popular blogger Ryan Beauchesne visit Tempe with their latest book.
Join the photogenic Crusoe as he leaves fame and fortune behind to expand his horizons, get his passport stamped, and journey across the globe to eat delicious food, relax on beautiful beaches, dig lots of holes, and generally enjoy all that celebrity travel has to offer. You'll also get to see a little of his "staycations" and life at home between travels.
Jet-setting is what dachshunds do best. From Switzerland's Alps and Mexico's Mayan temples to Italy's seaside villages and France's Eiffel Tower—as well as various locales throughout the U.S. and Canada—Crusoe shares his wit and wisdom on appreciating culture, fine wine, and haute cuisine, always dressing for the occasion, and maybe learning a thing or two about what really matters most in life along the way.
In hundreds of brilliant color photographs, see the charming and charismatic mini-doxie embark on such thrilling adventures as…
* Hitting the streets of New York City as The Wiener of Wall Street
* Stalking evildoers as Batdog
* Strolling Hollywood's Walk of Fame (with his own star)
* Going out on a dinner and movie date with the lovely Paisley
* Digging for fossils at Dinosaur Provincial Park
* Playing doctor and dentist to his sidekick brother, Oakley
* Drinking at the notorious Bar Vitelli, shooting location of
The Godfather
* Recovering from back surgery with lots of love and rehabilitating in style
* Tasting a beignet at New Orleans's famous Café du Monde
* Exploring his German heritage as a "badger dog"—and discovering what wiener schnitzel actually is…
ABOUT THE AUTHOR
RYAN BEAUCHESNE is an online marketing professional for a web development & marketing agency based out of Ottawa, Ontario. His experience and skills in online marketing have played a large role in developing the blog to where it is today. Ryan has taken care of everything involved with the blog from the writing itself, the photography, the web design, the social media engagement, and virtually all else associated with it. Ryan comes from a long background of creative endeavors, having always busied himself with some sort of project. He grew up with the photo books of William Wegman on his coffee table and has read each Calvin & Hobbes comic book at least several times - both of which were his inspirations for the
New York Times
bestselling Crusoe book. Ryan is the ghost writer behind many corporate websites and blogs. The Crusoe blog itself has won back-to-back awards for 'Best Pet Blog' of 2013 and 2014.

$18.99
ISBN: 9781250134721
Availability: On Our Shelves Now
Published: St. Martin's Griffin - October 16th, 2018
---