CHANGING HANDS BOOK CLUB
Found in Translation: The Rainbow Troops by Andrea Hirata, translated by Angie Kilbane
7PM WEDNESDAY, NOVEMBER 14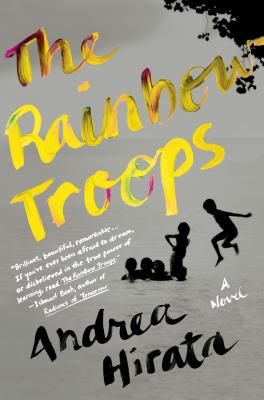 This month we'll discuss The Rainbow Troops by Andrea Hirata, translated by Angie Kilbane.
Whether you're a seasoned traveler, a voracious reader, or a dreamer who wants to see the world, all are invited to our newest book club focused on international literature. Sometimes visiting other countries doesn't always give travelers an insider's view into foreign cultures; sometimes we are still too outside, too different, to get at the heart of a place. Often the best way to understand distant lands and peoples is to read their literature, to get inside the head of a foreign author, to hear their myths and fairy tales molded around words they penned in their mother tongue.
In Found in Translation, we will delve into a work of international literature in a small group setting while enjoying coffee, beer, or wine drinks from First Draft Book Bar, located in Changing Hands Phoenix.
Stop by Changing Hands Phoenix or Tempe (or order online by clicking "add to cart" below) to get your copy of
The Rainbow Troops
for
10% OFF
.
Then meet us at First Draft Book Bar to discuss the pick and enjoy
HAPPY HOUR
prices all through the event.
FREE PARKING / LIGHT RAIL
Don't want to drive? Take the Light Rail! It lets off at the Central Avenue/Camelback Park-and-Ride, which has hundreds of free parking spaces across the street from Changing Hands.
ABOUT THE BOOK
Published in Indonesia in 2005,
The Rainbow Troops
, Andrea Hirata's closely autobiographical debut novel, sold more than five million copies, shattering records. Now it promises to captivate audiences around the globe. Ikal is a student at the poorest village school on the Indonesian island of Belitong, where graduating from sixth grade is considered remarkable. His school is under constant threat of closure. Ikal and his friends—a group nicknamed the Rainbow Troops—face threats from every angle: skeptical government officials, greedy corporations, deepening poverty, crumbling infrastructure, and their own low self-confidence.
But the students also have hope, which comes in the form of two extraordinary teachers, and Ikal's education in and out of the classroom is an uplifting one. We root for him as he defies the island's tin mine officials. We meet his first love, the unseen girl who sells chalk from behind a shop screen, whose pretty hands capture Ikal's heart. We cheer for Lintang, the class's barefoot math genius, as he bests the students of the mining corporation's school in an academic challenge. Above all, we gain an intimate acquaintance with the customs and people of the world's largest Muslim society.
This is classic storytelling in the spirit of Khaled Hosseini's
The Kite Runner
: an engrossing depiction of a milieu we have never encountered before, bursting with charm and verve.

$14.40
ISBN: 9780374534448
Availability: On Our Shelves Now
Published: Sarah Crichton Books - February 11th, 2014
---